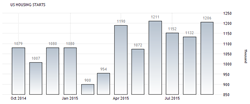 housing starts are just 16.5% below the historical average
Chicago, IL (PRWEB) October 20, 2015
Lenders like The Federal Savings Bank were excited to see the latest positive housing starts data released this morning by the U.S. Census Bureau.
As shown graphically shown on TradingEconomics.com, housing starts "rose 6.5 percent to a seasonally adjusted annual rate of 1,206,000 in September of 2015, following an upwardly revised 1,132,000 in August and beating market forecasts. Housing starts in the United States averaged 1445.58 thousand from 1959 until 2015, reaching an all time high of 2494 thousand in January 1972 and a record low of 478 thousand in April of 2009." Housing starts for September was the 2nd highest of 2015; the highest was at 1211 thousand in June.
Currently, housing starts are just 16.5% below the historical average. The Federal Savings Bank thinks starts will continue to grow higher as builders know there is higher demand than inventory available. The current environment of limited inventory is pushing prices higher. The Federal Savings Bank fully expects home prices to continue higher as long as the national unemployment rate remains low.
Young first-time home buyers are tired of paying high rents to landlords. This generation has been very patient through their struggle of finding a job and saving money for a down payment. Now these recent college grads from the 2008 to 2012 period are finally enabled to purchase a home thanks to their new found jobs. The Federal Savings Bank strongly encourages all serious prospective buyers to be pre-approved for a home loan, especially since mortgage rates are at attractive annual lows near 4%. Due to the limited number of homes for sale, one must be pre-approved for a home loan in order to make serious bids on properties and compete with other buyers
For October, TradingEconomics.com shows a forecasted amount of housing starts at 1,159 thousand. The Federal Savings Bank fully expects the October report to reflect a number higher than the forecast.
Whether customer, reality or trusted referral source, The Federal Savings Bank understands how important every purchase or refinance transaction is to help our clients optimize the purchase or refinance of their home.