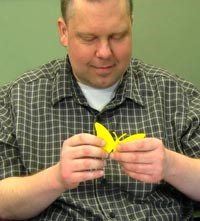 With 3D printing, you are essentially representing a 3D image in a physical form, and we thought this is a way that we can actually allow blind people to see things that they can't normally see.
Milwaukee, WI (PRWEB) October 21, 2015
It is one thing to have an idea in your head, but it is a completely different experience to hold it in your hands. With its advanced technology and ease of use, it is no secret why businesses are implementing 3D printing into their processes. 3D printing has recently exploded as a disruptive technology, especially in the manufacturing industry. By creating a computer-aided-design (CAD) model and sending it to the 3D printer, a part is built layer-by-layer from the bottom up.
Beyond Vision, a provider of manufacturing and business services, is committed to providing employment to the visually impaired. While 3D printing has proven to be successful in the manufacturing aspect of the business, Beyond Vision has also found a unique way to utilize their 3D printer. Beyond Vision is giving their blind employees the opportunity to "see" through 3D printing.
"With 3D printing, you are essentially representing a 3D image in a physical form, and we thought this is a way that we can actually allow blind people to see things that they can't normally see," explains Jim Kerlin, president and CEO of Beyond Vision.
GSC (Graphics Systems Corp.), a provider of 3D engineering technology, worked with Beyond Vision to evaluate various 3D printers and technologies based on their manufacturing needs.
"Their initial objective was to make fixtures and jigs to improve their product assembly process for the blind employees. Once they received the 3D printer, they started finding even more unique ways to utilize the printer to benefit their employees," said Mike Krause, 3D printing consultant at GSC.
People who are visually impaired use their sense of touch to "see". By printing a snowflake, butterfly, and sailboat, visually impaired employees at Beyond Vision were able to visualize objects that were previously only imaginable.
"A person who is blind has never had an opportunity, especially if they have been blind since birth, to know what a snowflake looks like and that every snowflake is different," explains Kerlin. By printing several snowflakes in different shapes and sizes, employees were able understand the difference in the unique patterns.
With something as delicate as a butterfly, a blind individual must rely on descriptions and may not fully have the opportunity to appreciate the beauty in the detail. By 3D printing a butterfly with detailed wings that articulate, a person who is blind can understand the movement as well as the pattern on the wings.
Several employees had previously been sailing, but found it difficult to fully imagine what the boat looked like from back to front. The 3D printed model enabled them to understand the layout of the sails as well as where they would sit.
When employees were asked what other objects they would like to see printed, some ideas included a basketball court, baseball diamond, and a neighborhood map of one's home.
"We thought this was a really unique way for us to use 3D printing and allow a person who is blind to see things that they can't normally see," says Kerlin. Beyond Vision is continuing to use 3D printing in the manufacturing aspect of the business as well as for ideas on how to enrich the lives of their blind employees.
To learn more about 3D printing technology, visit gxsc.com
About Beyond Vision
Beyond Vision is a 501 (c) (3) not-for-profit company with a goal of providing employment opportunities to people who are legally blind. It's for this reason that Beyond Vision has been striving to achieve its vision that "Beyond Vision will further enrich the lives of people who are blind by providing employment opportunities through commercially successful work valued by customers and the community" for more than 100 years.
About Graphics Systems Corp.
Graphics Systems Corp. assists companies in implementing 3D engineering capabilities for design, simulation, data management, technical documentation, and 3D printing. A local engineering technology expert since 1989, Graphics Systems Corp. partners with companies in Illinois, Wisconsin, and Michigan to improve product design and engineering efficiency.
Graphics Systems is the Midwest's leading provider of Dassault Systèmes SOLIDWORKS and Stratasys solutions, consulting, support, and training. Their world-class team of dedicated professionals provide thousands of companies with unparalleled sales, service, training, and support.
For more about Graphics Systems and to learn more about our support offerings, please visit our website, http://www.gxsc.com, or call 800-454-2233.