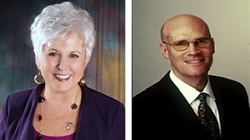 Cause Related Event Marketing is one of the least utilized, yet most powerful ways to have your unique message heard and embraced by your community.
Chicago, IL (PRWEB) October 21, 2015
"Cause Related Event Marketing is one of the least utilized, yet most powerful ways to have your unique message heard and embraced by your community." says Daniel A. 'Danny' Bobrow, MBA (Finance), MBA (Marketing), AIM Dental Marketing president and founder/executive director of Climb For A Cause™ and The SmileTree™. "Its power derives from its ability to associate your practice with a worthwhile cause, and the resulting goodwill such a connection garners." concludes Bobrow.
The concept is not new, and is currently practiced in nearly every industry including banking, e-commerce, hospitality, and, of course, health care.
A notable application is the practice committed to adopting and promoting an oral systemic heatlh model.
Bobrow continues that "By, for example, supporting oral cancer research and treatment, that practice is performing a social good while simultaneously differentiating itself from other dental practices by helping the public realize that there is more to dentistry than 'drilling and filling.' "
Linda Miles, founder of Linda Miles Consulting and the Speaking Consulting Network, and president of Oral Cancer Cause (OCC), is one of the most highly respected and recognized personalities in dentistry today, whose focus is now firmly on showing practices how they can do well by doing good in support of oral cancer awareness, education, research, and treatment.
"Saving lives through increased awareness of the importance of early intervention, and providing financial assistance to oral cancer families during their medical treatments are our top priorities. Fortunately, our third objective flows naturally from the first two: delivering marketing and educational materials to OCC Dental Partners so they become the 'go to practice' in their community for this vital component of the Whole Personal Health initiative."
Miles and Bobrow will deliver a one hour presentation, allowing 30 minutes for audience participation. The presentation will demonstrate the rationale behind, and evidence in support of, the value in associating ones practice with a socially responsible cause, as well as the actual steps for ensuring a successful and sustainable event. Specific learning objectives include: understanding the true meaning and intent behind professional cause marketing, appreciating why Cause Marketing is the fastest growing practice building tool in use today; mastery of the 4 step process for creating, promoting, and growing your Event (and practice), and transforming your practice culture by embracing and practicing cause-related outreach.
Attendees may apply to receive 1.5 hours of AGD PACE continuing education credit.
Those interested may Register For The Webcast Here.
email Director(at)ClimbForACause(dot)org or call 1-800-723-6523 to learn more.