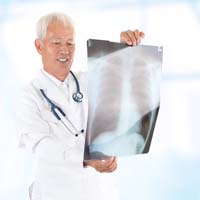 PMX encapsulated in cholesterol-free liposomes drastically inhibited the tumor growth in the pleural cavity.
Raleigh, NC (PRWEB) October 22, 2015
Scientists studying the effectiveness of an encapsulated form of the mesothelioma drug pemetrexed say injecting it into the pleural cavity where mesothelioma starts had a significant impact on tumor growth. Surviving Mesothelioma has posted details of the new study on the website. Click here to read the article.
Doctors at Tokushima University are working with a form of pemetrexed (PMX) with a protective liposomal (fatty) coating. When they injected it into mice with mesothelioma, the results were reportedly dramatic.
"PMX encapsulated in cholesterol-free liposomes drastically inhibited the tumor growth in the pleural cavity, while free PMX and PMX encapsulated in cholesterol-containing liposomes barely inhibited the tumor growth," writes mesothelioma researcher Hidenori Ando of the Institute of Biomedical Sciences at Tokushima University.
The study, in the Journal of Controlled Release, is the latest in a group of recent studies on the potential of liposomal pemetrexed for malignant pleural mesothelioma.
"Unfortunately, the same things that make pemetrexed so lethal to mesothelioma cells, also make it lethal to patients at high doses," says Alex Strauss, Managing Editor of Surviving Mesothelioma. "A new, safer way to deliver this drug has the potential to dramatically improve mesothelioma outcomes."
For more on how liposomal mesothelioma works and links to more studies on the method, see Improving Mesothelioma Chemotherapy with New Drug Delivery Method, now available on the Surviving Mesothelioma website.
Ando, H, et al, "Advanced therapeutic approach for the treatment of malignant pleural mesothelioma via the intrapleural administration of liposomal pemetrexed", October 14, 2015, Journal of Controlled Release, Epub ahead of print, http://www.sciencedirect.com/science/article/pii/S0168365915301875
For nearly ten years, Surviving Mesothelioma has brought readers the most important and ground-breaking news on the causes, diagnosis and treatment of mesothelioma. All Surviving Mesothelioma news is gathered and reported directly from the peer-reviewed medical literature. Written for patients and their loved ones, Surviving Mesothelioma news helps families make more informed decisions.