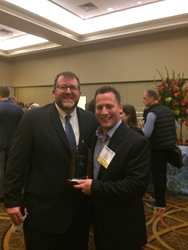 Fort Lauderdale, Fl. (PRWEB) October 21, 2015
ReloQuest received the recognition from Lexicon Relocation during the Worldwide ERC (Employee Relocation Council) Global Workforce Symposium in Boston on October 8th. The major conference brings together about 4,000 professionals in workforce mobility title and is one of the biggest events of its kind in the United States.
ReloQuest entrusted Lexicon Relocation to be a part of the software's beta testing phase in late 2014 through early 2015. Doing so was instrumental in honing the company's software to enhance its functionality for relocation management companies and housing suppliers, said Craig Donovan, vice president of Global Network Integration for Lexicon Relocation.
"Working together, we have improved service to our customers," Donovan added. "Collaborating with their end users is what makes this cutting edge."
In July, ReloQuest launched to help those seeking temporary housing to find the best matches, faster and at a lower cost than with existing solutions. The tools for sourcing and evaluating various housing options have been mired in 1990s-era technology, said ReloQuest President and Founder Darin Karp. The Innovation Award is as much a reflection on Lexicon as his own company, he added.
"For many years, there has been a desperate need in the industry to provide what we can offer and Lexicon recognized that early on," said Karp. "As a respected leader in the field, Lexicon is a key partner in bringing about this innovation to the relocation business."
Donovan said that in an ever-tighter rental market, "it is imperative to incorporate a real-time technology interface with our Corporate Accommodation network."
"Decisions need to be made quickly," Donovan continued. "With ReloQuest, we have the ability to consolidate information from multiple global suppliers in a standardized format that is easy to sort and read. The supplier feedback feature will allow our LexNet suppliers to better target options for key factors such as cost, distance and quality."
ReloQuest's software significantly reduces the cost that companies incur in relocating employees, creates stiffer competition through heightened transparency and consumer awareness, and empowers requestors and clients with more visibility and control over the entire process.
Any of the world's 700-plus corporate housing providers may register their companies on ReloQuest.com, enabling corporations to discover new suppliers and add them to their network at any point, representing a benefit for both sides.
Based in Fort Lauderdale, ReloQuest is online at http://www.ReloQuest.com. Phone: 855-ReloQst (735-6778).
Based in Jacksonville, Fla., Lexicon Relocation is online at http://www.lexiconrelocation.com/. Phone: 800-387-8242, or 904-858-1255.