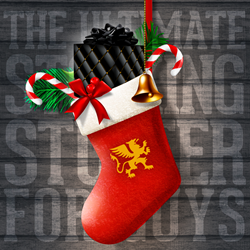 "The holiday season is always good for us and we wanted to capitalize on that," says Matt Green, the creator of BladeButter™. "We've created a gifting experience that is really easy for the consumer. It's boxed, bowed, and ready-to-go."
Tampa, FL (PRWEB) October 22, 2015
BladeButter™, the all-natural shaving product that helps your razor last up to ten times longer, launches their new gift boxes and dubs them "The Ultimate Stocking Stuffer For Guys." The stylish gift box features the BladeButter™ dragon mascot in a secretive pattern that keeps the contents a mystery. The "Ultimate Stocking Stuffer for Guys" gift box includes a black bow and does not require wrapping. Each gift box costs $18.95 and holds a six-month supply of BladeButter™. The compact design fits nicely inside a standard holiday stocking and offers consumers a hassle-free way to give the gift of better shaves and longer lasting razors.
BladeButter™ all-natural razor treatments help razors perform better and last up to ten times longer. Users simply treat their current razors for a few seconds before each shave and then they shave as usual. BladeButter™ benefits consumers looking to save money on razors and improve the shaving experience at the same time.
BladeButter™ contains Tea Tree Oil, Aloe Oil, and Vitamin E which sanitize razors naturally and help repair skin damage. The company's proprietary Nano Filtration Technology gives BladeButter™ the power to penetrate the metal of razors instantly, protecting blades from the inside out. This unique action prevents oxidation and significantly reduces the friction that wears out blades prematurely.
BladeButter™ razor treatments have been reviewed and recommended by Thrillist, The Tampa Tribune, MarketWatch, The Gloss and more.
GoodHousekeeping listed BladeButter™ in a Top 5 Gifts For Dad for Father's Day. The list included Panasonic, American Crew, Aveeno and CeraVe which are all internationally recognized brands.
Matt Green shares the remarkable backstory on the product's website. Matt details how he turned a sticky protein bar into a top-ranked shaving product. BladeButter™ started out as Matt's part-time project and it has become his full-time job.
BladeButter™ is currently sold direct to consumers via the internet. However, plans to expand to retail are in the works. Major drug chains have taken notice and negotiations for a national rollout are being discussed.
###
"The Ultimate Stocking Stuffer for Guys" Store Page
http://www.bladebutter.com/site/product/bladebutter-gold-jar-gift-box/
The BladeButter™ Website
http://www.bladebutter.com/site/
BladeButter™ Videos
http://www.bladebutter.com/site/videos/