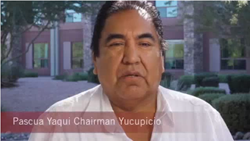 It provided us a chance for life, a chance to tell the kids, now we can stand on our own
Phoenix, Arizona (PRWEB) October 28, 2015
Grassroots organization, Benefiting Arizona, recently released a video interview with Peter Yucupicio, Chairman of the Pascua Yaqui Tribe, where he discusses life in his Tribe before Tribal Gaming as well as the significant benefits he has seen since the Tribal Gaming compacts were signed in 2002. As Chairman Yucupicio explains, there is a significant difference between commercial and Tribal Gaming, which has become an important, successful economic catalyst for Tribes. While commercial gaming is owned and operated by large corporations, Tribal Gaming is owned by entire nations, who use the revenues to build infrastructure, support elder and youth services, improve healthcare, and diversify their economies.
As Pascua Yaqui Chairman Yucupicio explains in the video, Tribal Gaming has not only benefitted urban Tribes, but has been critical for the most remote, rural tribes, like Hualapai and Havasupai, who who do not have the population density to make casinos of their own viable. This opportunity is provided through inter- tribal machine transfers, allowing those tribes, far from the dense population centers, to benefit from the same gaming opportunities that sustain Tribes situated in urban areas. The transfer agreements are an economic lifeline for Tribes whose resources for economic development are limited.
Learn more at http://www.BenefitingArizona.org
About Benefiting Arizona
Benefiting Arizona is a grass roots organization of individuals, businesses, Tribes, not-for-profit, and for-profit organizations who recognize the many benefits experienced by the people of Arizona as a result of the current Tribal-State gaming compacts. This government-to-government partnership provides opportunity for Tribes and all Arizonans. For more information, visit http://www.BenefitingArizona.org.
About the Arizona Indian Gaming Association
AIGA has a membership of 18 tribes representing more than 90% of the Indian people living on reservations in Arizona. AIGA was established November 21, 1994 by Arizona tribal leaders. The Association is committed to advancing the lives of Indian peoples – economically, socially and politically – so that Indian tribes in Arizona can achieve their goal of self-reliance. Current membership includes: Ak-Chin Indian Community, Cocopah Tribe, Colorado River Indian Tribes, Fort McDowell Yavapai Nation, Fort Mojave Indian Tribe, Fort Yuma- Quechan Tribe, Gila River Indian Community, Havasupai Tribe, Hualapai Tribe, Kaibab-Paiute Tribe, Navajo Nation, Pascua Yaqui Tribe, Salt River Pima-Maricopa Indian Community, San Carlos Apache Tribe, Tohono O'odham Nation, White Mountain Apache Tribe, Yavapai Apache Nation and the Pueblo of Zuni. For information about AIGA visit http://www.azindiangaming.org.