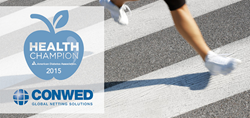 Minneapolis, Minnesota (PRWEB) October 21, 2015
Conwed, the leading plastic netting manufacturer in the world, has achieved the Health Champion Designation from the American Diabetes Association. This designation recognizes companies and organizations that inspire and encourage organizational well-being and is part of the Association's Wellness Lives Here℠ initiative.
"Conwed is committed to supporting and improving our employees' wellness and it is an honor to be recognized by the American Diabetes Association. We encourage the adoption of healthy habits which will benefit our team members, their families, and our company's productivity and morale overall", said Barb Levercom, Benefits & Wellness Coordinator at Conwed.
To qualify for the Health Champion Designation, a company or organization must meet the healthy living criteria in three areas:
1. Nutrition and Weight Management: Five of the twelve criteria options such as offering healthy food choices, promoting nutritional information and providing healthy vending options.
2. Physical Activity: Four of the nine criteria options, such as participating in the physical activity events of the American Diabetes Association, facilitating walking or biking to work, encouraging taking the stairs, etc.
3. Organizational Well-Being: Having an organizational smoke-free policy and three more of the nine criteria options, such as having a designated wellness program coordinator, a wellness committee, or a contracted wellness company available to staff/members, integrating health topics/information into internal communications, etc.
A firm believer in promoting employee engagement to make wellness initiatives succeed, Barb Levercom understood each company location sought and welcomed health programs. "We introduced our wellness program - LIVE WELL. WORK WELL™- as a win-win solution for both employees and Conwed. We'd like our team to adopt a long-term commitment to healthy lifestyles and reach our ultimate goal of reducing health risks."
The American Diabetes Association is leading the fight to Stop Diabetes and its deadly consequences and fighting for those affected by diabetes. The Association funds research to prevent, cure and manage diabetes; delivers services to hundreds of communities; provides objective and credible information; and gives voice to those denied their rights because of diabetes. For the past 75 years, its mission has been to prevent and cure diabetes and to improve the lives of all people affected by diabetes.
For additional information about Conwed and its wellness program, visit http://www.conwedplastics.com/wellness
About CONWED
Conwed is the leading plastic netting manufacturer in the world. Conwed manufactures extruded, oriented and knitted netting with unique customization capabilities. Headquartered in Minneapolis, Minnesota, Conwed has five manufacturing locations on two continents and a global distribution network.