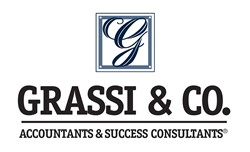 New York, NY (PRWEB) October 22, 2015
Grassi & Co., one of the top 20 accounting firms in the NY market closed all three of their offices to give back to the community.
It is not every day that an accounting firm is willing to shutdown business in order to give back, but on Monday, October 19th, Grassi & Co. did just that—and did it BIG!
For the firm's annual "Firm Day" event, Louis C. Grassi, the firm's Managing Partner and CEO, brought 230 of his employees and Partners to the Marriott Marquis at Times Square for a day of service with St. Francis Food Pantries and Shelters. On this special day, the mission was to prepare thousands of peanut butter and jelly sandwiches to be distributed to hungry New Yorkers, and to beat last year's record of 10,000 sandwiches—and him and his employees did just that! Split into two teams, employees were able to make over 14, 890 sandwiches in just under two hours, and that only included the amount of sandwiches able to be bagged and sealed before the stock of Ziplock bags ran out.
In a speech addressed to everyone at the firm, Louis stressed, "It is very important to give back and it is especially important to help those that cannot help themselves."
Grassi & Co., celebrating 35 years in business, is a nationally recognized firm that was founded in New York and can attribute its success to its employees and clients in the New York Metro area.
###
About Grassi & Co.: Grassi & Co., the 73rd largest firms in the U.S., is a premier professional service organization specializing in accounting, auditing, tax, technology, and business consulting services. Grassi & Co. has offices in Manhattan, Long Island and Rockland County, NY as well as internationally through its association with Moore Stephens International. Grassi & Co. specializes in professional services for the Not-for-Profit, Construction, Architecture & Engineering, Financial Services, Life Sciences, Manufacturing & Distribution, Retail, Technology, Media & Telecommunication, Transportation and Healthcare industries, among others.