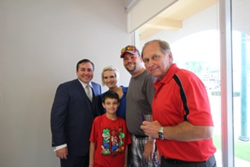 "For other companies, salespeople are the lifeblood of their business; at RP Funding, the customers are our lifeblood."
Maitland, Florida (PRWEB) October 22, 2015
RP Funding, leading Central Florida mortgage lender, made history by closing one of the industry's first TRID (TILA-RESPA Integrated Disclosure) loans. Taking effect on October 3, these new regulations were rumored to prolong the mortgage process as long as 60 days; the team at RP Funding finalized everything in just 10 days.
The significance of this event was evident as Robert Palmer, President of RP Funding, and members of his staff traveled to Boca Raton, Florida on October 16 to highlight this historic loan closing. The new home owners, who were offered unrealistic finance options by other lenders, were enthusiastic about their experience with RP Funding.
"The last time (I bought a home) it was hard to get information and know what was needed," the borrower explained. "With RP Funding, I asked a question and immediately got an answer. The speed and the accuracy stood out to me."
Speed, indeed. RP Funding maintains their reputation for fast closing times under the new TRID regulations. The initial loan estimate was sent on October 6, marking the first of the 10 day loan process. The appraisal was ordered just two days later on October 8, with underwriting being approved in the four days following. Fast forward to October 16: the closing date.
"We had a very strict deadline" the new homeowner added. "When [our loan officers] told us that they could complete the loan in 10 days, I thought they were bluffing," he admitted. "They made a believer out of me!"
RP Funding debunked the industry myth that closing a loan under the new TRID regulations would be a time-consuming and burdensome procedure resulting in an average waiting period of 50 days. The team at RP Funding was adaptable and fully TRID-trained allowing them to easily succeed while other lenders were ill-equipped and underprepared.
So, what is the formula to success? Palmer explained, "For other companies, salespeople are the lifeblood of their business; at RP Funding, the customers are our lifeblood."
For more information about RP Funding and how they can close your mortgage loan under the TRID regulations please visit http://www.rpfunding.com.
——
About RP Funding
RP Funding is a full service mortgage lender headquartered in Maitland, Florida. Licensed at the highest level for the state of Florida, RP Funding originates, underwrites, closes, and funds its own loans and is a Discount Direct Mortgage Lender. Founded in 2008, RP Funding now employs 200 people, and is growing daily, across three locations: Lakeland, Jacksonville, and Maitland, Florida.