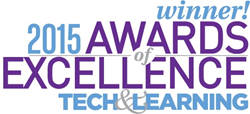 New York, NY (PRWEB) October 21, 2015
Nine Pearson digital solutions for K-12 schools, colleges and universities are winners in the 2015 "Tech & Learning" magazine Awards of Excellence. The prestigious award program, now in its 33rd year, honors innovative applications that break new ground as well as significant enhancements to proven educational tools.
DRA2+ (Developmental Reading Assessment, Second Edition, Plus), Pearson Middle Grades American History 2016 and Med Term Scramble are honored in the Best New Products category. Honored in the Best Upgraded Products category are GradPoint™, Education Technology and Online Learning Courses and Connexus® School Management System from Connections Learning by Pearson; as well as MyStatLab™: Interactive Assignments. Also recognized as a Best Upgraded Product and honored in this program for the third consecutive year is iLit 4.0 and its companion product for English language learners, iLit ELL, which earned honors in that category this year.
The winning products will be featured in the December 2015 issue of "Tech & Learning" magazine, as well as on its website.
Best New Product Winners
The Developmental Reading Assessment® (DRA2+) is a proven, research-based assessment that gives educators the right mix of tools to systematically observe, record and evaluate changes in student reading performance. With the ability to identify independent reading levels and provide a focus for instruction, teachers are empowered to meet each student's individual needs.
Available in print, digital and blended options, Pearson Middle Grades American History 2016 is designed to unlock the exciting story of our nation's history with engaging stories, activities and opportunities for drawing connections from the content to students' own lives, expanding their understanding of American history and why it remains important today. The program bridges time-tested best practices, curriculum standard expectations, and technology to help prepare students to be college and career ready all while unlocking the exciting story of our nation's history.
Med Term Scramble is a free app for health sciences students and working professionals to practice and test their knowledge of medical terminology. With more than 30 word lists to choose from, users can prove their mastery of terms like steatorrhea and rhabdomyoma by challenging themselves to attain perfect accuracy or race for the best time possible. Better than flashcards, Med Term Scramble helps users master medical terminology in a fun setting.
Best Upgraded Product Winners
Connexus is one of the most comprehensive and reliable online learning management systems available. This intuitive and user-friendly learning platform connects students with their lessons, teachers, and a wide range of educational resources. And it is accessible 24 hours a day, from any Internet connection.
Education Technology and Online Learning Courses provide students with technology instruction and then asks them to apply their new learning to academic assignments. Course content aligns with the ISTE Standards for Students as well as state and national standards, addresses 21st century skills, and creates both academic and technology lessons and activities to reinforce technology skills as students apply them to academic concepts. This practice and application supports students as they transfer their knowledge from these courses into their online core and elective courses.
GradPoint is an easy-to-use and cost-effective online and blended learning solution for grades 6–12. It gives districts and schools the power to truly personalize learning with rigorous, standards-based core, elective, honors and Advanced Placement curriculum delivered on an award-winning, intuitive learning platform.
Honored for the third consecutive year, the iLit mobile app is a comprehensive digital literacy solution designed to produce two or more years of reading growth in an academic year for students in grades 4-10. The intervention program offers personalized learning support based on students' instructional needs, with engaging interactivities and built-in reward systems that motivate and track progress.
Developed to accelerate English language development, iLit ELL's proven, research-based, digital intervention is enhanced with explicit, point-of-use scaffolding and content to support English language development so English learners can build academic language through word study; develop prosody with the English language; engage in academic discourse by improving English language production; and become independent readers who are successful working at grade level.
MyStatLab is the leading online resource for teaching and learning statistics. This powerful tool creates personalized learning experiences that help each student better absorb statistics course material. Written entirely within MyStatLab,​ Interactive Assignments offer a fully integrated mix of text, videos, interactive animations, tutorials and assessment.​ Students are encouraged to experience the material in new, dynamic and engaging ways. Each assignment guides students through text and multimedia content that helps students develop strong conceptual connections and better retain knowledge.​
About Pearson
Pearson is the world's leading learning company, with 40,000 employees in more than 80 countries working to help people of all ages to make measurable progress in their lives through learning. For more information about Pearson, visit http://www.pearson.com.
Media Contact: Scott Overland, scott(dot)overland(at)pearson(dot)com, 202-909-4528