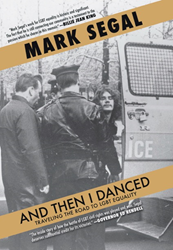 "Real change never comes without real guts and real vision and real leaders. Mark Segal is the real deal." - Robert Moore, Cofounder of Dallas Voice
New York, NY (PRWEB) October 22, 2015
In less than one month since publication, AND THEN I DANCED: Traveling the Road to LGBT Equality (Open Lens, an imprint of Akashic Books; October 6, 2015; $29.95 hardcover; $16.95 ) has become the nation's #1 LGBT Memoir, and now the publisher has ordered a second printing.
Not since the biography of Harvey Milk has there been such interest in a book about LGBT History. Segal is sparking change in the way books are promoted. You can see book ads on billboards and taxi cabs and Mark is making appearances in casinos as well as traditional venues such as universities, libraries, festivals, and bookstores.
Mark Segal was just eighteen when the Stonewall Riots of June 1969 erupted in New York right in front of his eyes. Determined not to stand idly by, Segal leapt into action that night and was one of the leaders who helped form the Gay Liberation Front from the ashes of Stonewall; and, within a year, he founded Gay Youth, the nation's first organization to deal with the issues faced by LGBT youth. Mark Segal has been a force to be reckoned with in the fight for gay rights every step of the way since then, from ending LGBT invisibility to marriage equality. In his evocative memoir, AND THEN I DANCED (October 2015, Open Lens, an imprint of Akashic Books), Segal chronicles his involvement in this crucial chapter of American history—and what he sees for its future.
For interview requests, contact Tanya Farrell, 646-450-8030, tanya(at)wunderkind-pr(dot)com.
AND THEN I DANCED | a memoir by Mark Segal | Open Lens, an imprint of Akashic Books | Publication Date: October 6, 2015 | 320 pages | Nonfiction/Memoir/LGBT Studies I Hardcover, $29.95, ISBN: 978-1-61775-410-4 | Trade paperback, $16.95, ISBN: 978-1-61775-399-2 | E-ISBN: 978-1-61775-427-2