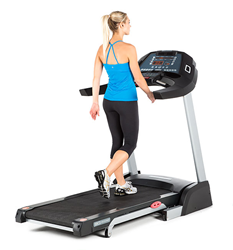 Award-winning 2015 3G Cardio Pro Runner Treadmill is simple by design
Phoenix, Arizona (PRWEB) October 22, 2015
The new 2015 3G Cardio Pro Runner Treadmill has earned Best Buy Awards from numerous reviewers and 5-star ratings from Amazon. This ingenious treadmill can't be beat for its combination of performance and value, all while being a fold down treadmill that can easily be stored away.
The 3G Cardio Pro Runner Treadmill is simple by design, but delivers the best running and walking workout in its class.
Many people will notice at first glance that the 3G Cardio Pro Runner treadmill (MSRP $2,499), which has received numerous Best Buy awards including FitProf.net, doesn't come with a touchscreen or other fancy entertainment features.
That's no oversight - it's exactly what the 3G Cardio design team intended.
The 3G Cardio line of treadmills come equipped with everything that's needed – and nothing that isn't. That makes it possible to own an elite, high-end treadmill at a reasonable cost.
The 3G Cardio designers went all out on high quality components such as an Ortho Flex Shock™ belt and suspension system, which is comparable to those found on models that sell for up to $4,000 more. There's a 3.0 HP motor and the torque provides as smooth a run as leading commercial treadmills.
When it comes to electronics, there are eight built-in programs and two custom programs.
If people want to upgrade the entertainment, they probably already own the nicest electronics that can be found for a treadmill. Simply plug in an iPad or tablet for music or videos on a screen that's hundreds of times better quality than any built-in treadmill screen. Or, watch a TV that's already in a home workout room rather than paying an unnecessary extra "grand" or more for an inferior treadmill console screen.
To make the workout more interactive, there are countless things that can be done with blue tooth apps ranging from workouts to calorie and heart rate monitoring. It's possible to download 10 times more information for free than is available on any "fancy" treadmill console out there.
Why spend an extra $800 or more for treadmills with comparable components that have more electronics, which still actually pale in comparison to an iPad or tablet? You already have it for free, so why the spend the extra money?
3G Cardio has clearly put its investment with the Pro Runner into the quality of the treadmill, rather than a bunch of bells and whistles that are inferior to what you already have.
The 3G Cardio Pro Runner has just the right combination of horsepower and torque
When it comes to evaluating treadmills, everybody seems to talk about horsepower as a key feature. However, that statistic can be manipulated and misleading.
Torque is the factor that matters even more, but it's rarely quantified. Rather, torque is something that can be felt. Either a treadmill has it or it doesn't — and if the torque is poor then people won't want to use that treadmill. Torque is the amount of power that the motor is able to exert to turn the treadmill's belt. An ideal treadmill will have a motor that will produce a high torque at low revolutions, providing enough torque to move the belt from a stopped position even with a heavier user. A treadmill with superior torque will be able to power the treadmill belt smoothly and also operate cooler and last longer than a motor with insufficient torque.
The 3G Cardio Pro Runner Treadmill has a powerful 3.0 horsepower motor and superior torque to let the user and the machine go the distance. This can be a Marathon Treadmill.
Many cheap department store treadmills list a high horsepower, but get on them and the low torque in the motor will be apparent. If a pause, slip or lag of the belt can be felt, that's basically an underpowered motor with poor torque. If a whirring noise is heard, or the belt seems to struggle to keep up, those are torque issues as well. The machine will only struggle more the heavier a person is, leading to a shorter life for the motor.
3G Cardio's Pro Runner features high-end treadmill components found on models that are unnecessarily loaded with electronics that sell for as much as $4,000 more. The Pro Runner has an Ortho Flex Shock™ suspension system, 3.0 hp motor, 5 years parts warranty and a space saving design. The Hutchinson drive belt costs three times that of a normal drive belt.
On top of all these features, the 3G Cardio Pro Runner is also a Folding Treadmill that doesn't take up much space. Although it has a superior 20.5" x 58" Ortho Shock treadmill belt, its overall footprint is just 74" x 35". It's a Fold Flat Treadmill that can easily be put away for storage.
Any way you look at it, the new 2015 3G Cardio Pro Runner Treadmill is a fantastic choice for walkers and for runners alike! Check us out at 3GCardio.com or on Facebook.