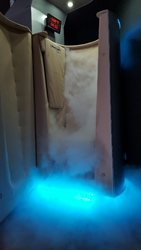 Anyone wishing to experience how -250 degrees below zero can have a positive impact on their health and performance can visit www.CryoUSA.com to find a local cryotherapy location.
Dallas, TX (PRWEB) October 22, 2015
"As more sports teams and celebrities trust CryoUSA as the established industry leader in whole body cryotherapy equipment, training, support, and consultation, we've been working hard to bring that same opportunity to everyday athletes as well," says Mark Murdock, Managing Partner at CryoUSA. "With our latest install, anyone in Hawaii who cares about health and performance, from weekend warriors to soccer moms, can now join athletes and stars like Jason Kidd, Galen Rupp, Lebron James, Tony Robbins, Daniel Craig, Sandra Bullock, and Demi Moore in experiencing the powerful, rejuvenating effects of whole body cryotherapy."
The new whole body cryotherapy unit was recently installed at Honolulu Cryo Spa, located at 1001 Waimanu Street, Suite D, Honolulu, HI 96814.
Tyler Seguin of the Dallas Stars recently said to ESPN, "I've gotten addicted to cryotherapy. I stand in this tank, which goes down to like minus-184 degrees Fahrenheit; it goes up to your neck and you're just wearing underwear and socks. It jump-starts your nervous system. I'll do a morning skate at the rink, then I'll do cryotherapy in the chamber, come home, eat, and go to sleep until I have to get to the game. That's pretty much my game-day routine."
CryoUSA, which was recently seen on LIVE with Kelly and Michael, and The Dr. Oz Show, was formed to provide active recovery and unmatched customer experience to anyone seeking to improve quality of life and enhance an active lifestyle. This is accomplished by continual and diligent research, testing, education, and discovery of the most innovative recovery technologies in the world. Offering revolutionary, whole body cryotherapy along with other leading recovery modalities, CryoUSA sets the industry standards for safety, equipment, and reliability for over a decade. And while professional sports teams, the world's most elite athletes, and celebrities have trusted CryoUSA as their provider in recovery, individuals can benefit through the 100+ whole body cryotherapy and recovery centers CryoUSA has helped launch across America.
Alberto Salazar, former marathon star and current head coach of Nike's Oregon Project where CryoUSA has installed a cryochamber said, "Runners everywhere can now recover the same way the best in the world do. CryoUSA offers technology that allows for total body recovery in just 3 minutes. I have incorporated it into the training regimen of my athletes and if you are serious about recovery then you should, too."
Anyone wishing to experience how -250 degrees below zero can have a positive impact on their health and performance can visit http://www.CryoUSA.com to find a location where they can try whole body cryotherapy for themselves.