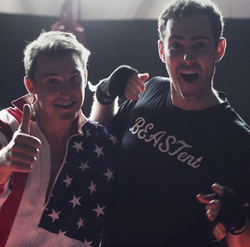 They felt the need to destroy the record and prove that they are better than two 10-year old girls
Los Angeles, CA (PRWEB) October 22, 2015
Comedians Alex Weber (Comedy Central, College Humor, and MTV) and Rob Mor (Comedy Central, MTV, and Reddit) have partnered up with director Ilya Polyakov to break the world record for longest LIVE video chat. Yes, you read that correctly: the world's longest conversation via video hangout broadcasted LIVE! The record-shattering chat will commence on October 22, 2015, and will last for 14 days; 24 hours a day without disconnecting for sleep or even bathroom runs!
Why take on such a task? Alex and Rob fell into a series of "you won't" dares, which inevitably led to the "longest video chat world-record challenge." Plus, two ten-year-old girls currently hold the record and video chatted for 10 days straight. So obviously, they felt the need to destroy the record and prove that they are better than two 10-year old girls.
The entire video chat will stream live via NoHangUps.tv, where viewers can submit dares and see both comedians participate in their challenges. People can also tweet Rob and Alex using @NoHangUpsTV to submit comments, questions and suggest daily activities and dares. All suggestions received will have to be completed while on video chat. People can let their imaginations run wild! Want to pick a Tinder date for Alex? Want to pick the Halloween costumes the guys should wear? Tweet and watch the funny antics LIVE.
ALEX WEBER is a Comedian, Host, Actor, and Producer who has starred in numerous TV shows, digital content, and commercials. He starred on MTV's pilot The Every Night Club with his best pal and fellow comedian, Rob Mor. He was also featured on Comedy Central's Tosh.0 making fun of Carrot Top. This fall, Alex will be hosting the feature The Unboxer on FX, as well as guest starring on MTV's new series, Greatest Party Story Ever, in which he regales a tale of blacking out at his Grandma's 90th birthday party. You can watch Alex on CollegeHumor, FunnyOrDie, and national commercial campaigns. Alex performs in Los Angeles Upright Citizens Brigade Improv and Stand Up at The Comedy Store. Alex was a Division 1 Lacrosse player for UPenn and was awarded US Lacrosse Coach of the Year for his work with a local LA high school. Check out Alex at ImAlexWeber.com
ROB MOR is a Comedian, Producer and Writer who has starred in Comedy's Central Tosh.0, and his most recent project for MTV's pilot The Every Night Club, which he produced and starred in alongside his best bud and fellow comedian, Alex. Early this year, Rob launched a sketch comedy channel, Real Rob Mor, that has been featured on Elite Daily, Brobible, and Total Frat Move. His video content, Diary of a Drunk Boner hit #1 on Reddit videos. Rob has created and produced web videos and series that have accumulated MILLIONS of views! You can see Rob perform sketches and improv at THE CLUBHOUSE, IO WEST, and UCB. Rob hails from Chicago and is passionate about creating funny content for the masses. He loves his cats and beer but most of all his wife, Noel. Check out Rob at RobMor.com
ILYA POLYAKOV is a film, commercial and viral video Producer and Director, as well as co-founder of Lucid Film Productions. Ilya is a frequent contributor to AwesomenessTV and CollegeHumor. His work has been featured on PBS, BET, Nickelodeon and--perhaps most excitingly--Canada's Family Channel. Ilya is the brains and tech-brawn behind NoHangUps.tv. To see more of Ilya's work, please visit LucidFilmProductions.com