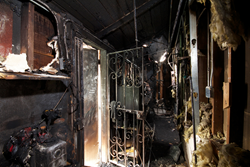 San Francisco, CA (PRWEB) October 26, 2015
Having been a San Francisco landmark for 40 years and offering excellent quality and creative custom-design jewelry to the area's customers, Union Street Goldsmith plans its reopening in November after losing Founder Glenda Queen and recovering from a terrible store fire.
This year, the store suffered a major fire, leaving it shut down for four months. The store front in which they called home was too badly damaged to return to. Luckily, there were no injuries and not a single piece of jewelry was damaged due to it being stored in the vaults. After that tragedy, another one struck with the passing away of Owner and Creator Glenda Queen due to a heart attack.
Co-Owner Terry Brumbaugh, Queen's partner for 40 years, put forth outstanding efforts, and in turn, the store will once again come to life at its new location just two blocks from the original store.
The classic and beautiful artistry of Union Street Goldsmith will continue in the tradition of Glenda Queen and Terry Brumbaugh. The reopening will be in early November at 2118 Union St. The staff looks forward to serving their customers again and carrying on the tradition and great name that comes with the business.
About Union Street Goldsmith:
Glenda Queen, with a background in arts and crafts, entered the jewelry business in 1964. After 11 years of making jewelry at McLeans in Sausalito, she and her partner, Terry Brumbaugh, opened Union Street Goldsmith. Queen chose a neighborhood she hoped would be a comfortable setting for her craftsmen as well as her clients and it worked. Brumbaugh, raised in the jewelry business, later became a gemologist. After an extensive period of travel, he joined with Queen to head up the Union Street Goldsmith sales staff. Brumbaugh has a rare gift in his memory of clients' collections, enabling him to design new pieces to fit his clients' special tastes and their collections. An excellent sense of style and fashion endows Brumbaugh with the ability to give valuable guidance to his clients in their jewelry selection, helping each one to create an overall special look within their collection.