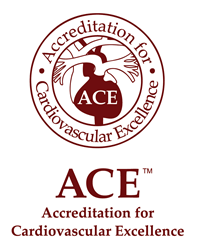 ACE reaccreditation is a distinction that validates our commitment to providing safe and appropriate interventional cardiac care to the people of Southeastern Pennsylvania. - Michael J. Duncan, president and CEO of Chester County Hospital
Washington, DC (PRWEB) October 21, 2015
Chester County Hospital, part of the University of Pennsylvania's Penn Heart and Vascular system, has completed the process of Accreditation for Cardiovascular Excellence (ACE) reaccreditation for cardiac catheterization and percutaneous coronary intervention (PCI). The achievement of reaccreditation reflects Chester County Hospital's adherence to standards established by experts in cardiac and endovascular care, based on ACE review of the hospital's organizational structure, patient safety practices, and clinical outcomes.
Chester County Hospital first received ACE accreditation in November 2012, a distinction that is emblematic of delivery of the highest-quality care, as defined by nationally accepted best practices in invasive and interventional cardiology. To achieve ACE reaccreditation, the physicians and staff at Chester County Hospital partnered with ACE's expert reviewers to validate compliance with current published guidelines and consensus documents.
"ACE reaccreditation is a rigorous process that cardiovascular health facilities undergo to demonstrate their renewed commitment to achieving the highest standards of care," says Bonnie Weiner, M.D., MSEC, MBA, MSCAI, FACC, and ACE's chief medical officer. "We are pleased to bestow this honor upon Chester County Hospital, which is part of the University of Pennsylvania health system, one of the top medical research and treatment programs in the country."
"We are proud to be reaccredited by ACE, one of the leading accrediting bodies in the cardiology field," commented Michael J. Duncan, president and CEO of Chester County Hospital. "ACE reaccreditation is a distinction that validates our commitment to providing safe and appropriate interventional cardiac care to the people of Southeastern Pennsylvania. We salute our physicians and staff for earning this significant achievement, and for their dedication to ongoing improvement in delivering high-quality cardiac care."
In addition, ACE announced that the majority of eligible facilities in Michigan have applied for ACE accreditation and have initiated the accreditation process. ACE was named by the State of Michigan to provide accreditation for specific types of cardiac catheterization services in the state. The approval followed a determination by the Michigan Department of Community Health Certificate of Need (CON) Review Standards that certain facilities providing elective percutaneous coronary intervention (PCI) services, which seek a waiver from state regulations requiring onsite availability of open-heart surgery, shall have ACE Accreditation perform an onsite review after implementation.
ACE is proud to be recognized by the states of Michigan and Pennsylvania to provide expert guidance to state regulatory departments on national standard criteria for cardiac catheterization laboratories. ACE helps to reduce the complexity of documentation and standardization, to allow cardiac catheterization laboratories to focus on vital quality indicators, resulting in cost-effective programs that mitigate risk.
Facilities seeking ACE accreditation and reaccreditation can obtain more information and complete the application process at http://www.cvexcel.org.
About Accreditation for Cardiovascular Excellence (ACE)
ACE is an independent organization sponsored by the Society for Cardiovascular Angiography and Interventions (SCAI). ACE offers independent evaluation and monitoring of facilities that provide cardiovascular care. By reviewing facility and operator performance and comparing clinical decision-making to nationally accepted best practices; ACE quality review and accreditation services play a critical role in continuous quality improvement programs. Learn more at http://www.cvexcel.org