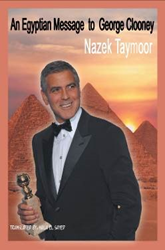 "What motivated me was my love for art and cinema, which has now become the major language of communication between the East and the West." - Author, Nazek Taymoor
(PRWEB) October 21, 2015
Even when diplomats fail to reach accord, the arts have often been successful in breaching roadblocks between cultures. Music, dance, paintings, books, and films travel round the world quickly, and even without an agenda, can change viewpoints quicker than weapons.
In this mindset, "An Egyptian Message to George Clooney" was written. As a liberal Egyptian and avid follower of political and social causes in Hollywood films, especially those that actor George Clooney never ceases to tackle, author Nazek Taymoor believes cinema is an important artistic channel of communication between East and West.
Clooney's movies give greater meaning to the true essence of cinema by analyzing and shedding light on the issues he confronts. This book details the actor's most prominent movies with critiques and examination, and also presents his biographical, activist, professional, and most importantly, the political sides of his life and works. Freedom of expression, oppression, capitalist corruption, carcinogenic products, Middle Eastern petrol abuse by first world countries, terrorism, and anti-terrorism are some of the concerns artistically presented by Clooney to the world. And the Oscar goes to …
About the Author: Businesswoman Nazek Taymoor currently lives in Cairo, Egypt. This is her second book. "What motivated me was my love for art and cinema, which has now become the major language of communication between the East and the West." This work was published in Arabic in both Egypt and Lebanon. The Egyptian version was published courtesy of the General Egyptian Book Organization, which picked it from among thousands of competing books.
"This book shows how popular culture unites the world and we are thrilled to announce its release," said Robert Fletcher, CEO of Strategic Book Publishing and Rights Agency.
AN EGYPTIAN MESSAGE TO GEORGE CLOONEY (ISBN: 978-1-63135-828-9) is now available for $18.95 and can be ordered through the publisher's website:
http://sbprabooks.com/NazekTaymoor or at Amazon.com or Barnesandnoble.com.
WHOLESALERS: This book is distributed by Ingram Books and other wholesale distributors. Contact your representative with the ISBN for purchase. Wholesale purchase for retailers, universities, libraries, and other organizations is also available through the publisher; please email bookorder(at)sbpra(dot)net.