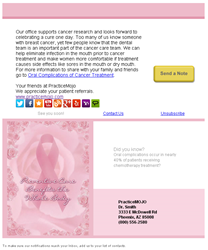 (PRWEB) October 21, 2015
Dental practices can leverage PracticeMojo email marketing campaigns this October to support Breast Cancer Awareness Month. According to the American Cancer Society, about 40,290 women die from breast cancer each year. PracticeMojo email marketing campaigns help dental professionals save lives by building awareness about the disease, its link to oral health and the importance of regular dental care.
PracticeMojo Marketing Specialist, Chris Bailey, states: "PracticeMojo's fully customizable email marketing campaigns give dental practices the freedom to market breast cancer awareness and any other important causes, services and information. All campaign strategies have been proven to increase dental patient retention and quality of care."
To maximize the impact of their breast cancer awareness efforts, dental practices can use email marketing campaigns in conjunction with Pink Ribbon products throughout the month of October. Offices should also participate in Breast Cancer Awareness events in the community and document their participation online and in the office.
By combining PracticeMojo email marketing campaigns, Pink Ribbon products and community service, dental practices can increase oral systemic health and solidify their reputation as quality service providers.
To learn more, contact info(at)practicemojo(dot)com or call 800.556.2580.