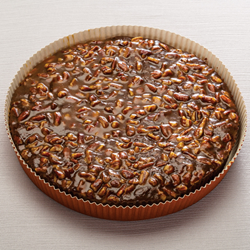 Matthews 1812 House started in 1979 with two different fruitcakes, so we are delighted to be expanding this category,"
Cornwall Bridge, CT (PRWEB) October 21, 2015
Matthews 1812 House has released their new products for Fall/Holiday 2015, available immediately on a newly redesigned website. Topping the list are new products made with Kentucky bourbon.
"My grandmother was raised in Maysville, Kentucky. That heritage was the inspiration for these new products," says Cynthia Matthews von Berg, President of Matthews 1812 House.
The bourbon line includes a Chocolate Pecan Bourbon Torte- a rich chocolate torte filled with pecans, topped with more pecans, then covered with Matthews 1812 House new Caramel Bourbon Sauce.
The Bourbon Blondie Bar is a traditional blondie with pecans and chocolate chips, with the addition of bourbon to the batter, It is then drizzled with Chocolate Bourbon Sauce. This bar ships in a 6 x 9" tray- you cut the pieces however you please. This lets you decide- big pieces or little finger food bites- perfect for entertaining.
Also in the new bourbon line are two sauces- Caramel Bourbon Sauce and Chocolate Bourbon Sauce. Both sauces are intense- you can't miss the bourbon! Matthews 1812 House recommends drizzling these sauces over cakes, tortes, or over ice cream. They also make great stocking stuffers.
Matthews 1812 House has also created Fruitcake Bites: a modern spin on the old-fashioned fruitcake. Made with apricots, dates, and pecans, these bites have no citron or candied fruit, making them more tart than sweet. Topped with an apricot, they are marinated in brandy to give them a mellow taste. These two-bite morsels are great for holiday parties- no knives or forks needed.
"Matthews 1812 House started in 1979 with two different fruitcakes, so we are delighted to be expanding this category," says Matthews von Berg. "Our fruitcakes are what a lot of people think of as Nut Cakes- they are dense with lots of fruit and nuts."
Lastly, the company has added Rosemary Olive Oil Savories to their savory product line. Herbs, citrus, and olive oil meld to make a delightful snack that goes well with wine, beer, or tea. Great to have on hand when friends stop by.
Matthews 1812 House has also redesigned their website- making it more user friendly. The images are larger, and the categorization makes it easier to find your favorite items or discover new items for that tricky gift list. Check out the new visuals created with the team at Also Design at http://www.1812house.com.
Matthews 1812 House started their family business in Cornwall Bridge, CT in 1979 and currently ships nationwide. They bake in small batches with high quality ingredients. Their selection includes traditional cakes and bars as well as sugar free and gluten-free varieties.
For additional information about Matthews 1812 House and to see their full line of cookies, cakes, brownies and bars visit http://www.1812house.com or email info(at)1812house(dot)com, or call 1-800-662-1812.