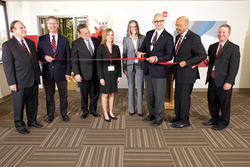 We are doing this for Elaine
Malvern, PA (PRWEB) October 21, 2015
CSM welcomed over 100 attendees to celebrate the opening of its second facility in the Great Valley Corporate Center of Malvern, Pennsylvania. Many elected officials and special guests spoke at the event, including State Senator Andrew Dinniman, Representative Duane Milne, County Commissioners Terence Farrell and Michelle Kichline, Pennsylvania Bio's CEO and President Christopher Molineaux, Contravir Pharmaceutical's CEO James Sapirstein.
The event included tours of the newly renovated 22,500 square-foot cGMP facility, a partner tabletop exhibition, and a ribbon-cutting ceremony with community leaders. The speakers spoke of new jobs created in the area by CSM, the importance of the life science industry to the community, and how clinical trial patients will be impacted by CSM's work. Guests celebrated the CSM milestone into the night with food, music, and prizes.
The Founder and CEO of CSM, Gerald Finken, gave an inspirational speech by posing the question, "Why are we here?" Finken told a compelling story on his interaction with a stranger during a recent trip for an industry conference. The man was in town for his wife. She was at the hospital and had recently been given six months to live. "We are doing this for Elaine," said Finken, speaking of the man's wife.
CSM's new facility will support a variety of clinical trial projects for patients around the globe. The facility will aid clients in the pharmaceutical and biotechnology industries with services such as packaging and labeling, temperature-controlled storage, global distribution, and high speed bottling. CSM invested $1.5M to update the facility according to cGMP standards and has entered a long-term lease with Liberty Properties Trust.
About CSM
Since 1997, CSM has been providing innovative solutions to meet the complex clinical supply challenges pharmaceutical and biotechnology companies face. The company manages the clinical supply chain for hundreds of satisfied clients worldwide, offering both traditional and innovative services that keep clinical trials on time and on budget.
CSM offers a full suite of cGMP-compliant services, continually delivering quality supplies to clinical sites and patients around the world. The company supports clinical trials with services such as packaging & labeling, global storage & distribution, controlled drug services, clinical supplies consulting, and returns, reconciliation & destruction. In 2001, CSM introduced the On-Demand platform, a new way of packaging and labeling clinical trial materials (CTM) for a specific subject or block subjects, upon request. For more information, visit csmondemand.com.