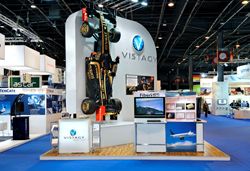 This is the year to add PRI to our schedule of trade shows. We see many of our past SEMA exhibitors firmly ensconced at PRI and we have determined that this show is becoming a major trade show for the exhibit industry - Todd Koren, CEO
Tustin, CA (PRWEB) October 20, 2015
PRI 2015 will include exhibits by 1200 racing companies, while drawing motorsports professionals from all 50 states and 70 countries. Show attendees come to the PRI Trade Show each year to shop and buy the up-to-the-minute racing products for the next race season. In 1988 PRI left the SEMA show held annually in Las Vegas as it moved into automotive performance aftermarket. While originally the Speed Equipment Manufacturers Association that show became the Specialty Equipment Market Association. PRI represented the racing market for racing retailers to view manufacturers of racing equipment. The first show was in Louisville in 1988 and with it came the golden age of NASCAR that brought racing to America.
In 2012, PRI was purchased by SEMA. SEMA then purchased the IMIS Show in Indianapolis to consolidate it into the PRI Trade Show and returned the PRI Trade Show to Indianapolis in 2013. The merging of the two shows was met with great enthusiasm throughout the racing industry, as was the return of the PRI Trade Show to the racing capitol of the world--Indianapolis.
Absolute Exhibits is a high volume exhibit rental manufacturer and has serviced SEMA's exhibitors for two decades through the Las Vegas manufacturing facility. "This is the year to add PRI to our schedule of trade shows. We see many of our past SEMA exhibitors firmly ensconced at PRI and we have determined that this show is becoming a major trade show for the exhibit industry," said Todd Koren, Absolute Exhibits CEO. "Our other Absolute Exhibits offices are in Southern California and Orlando, Florida. With seemingly 30%+ of PRI exhibitors coming from these two states and a large presence at SEMA, Las Vegas this show is a natural for Absolute Exhibits to highlight."
As an opening gesture and to allow PRI exhibitors the opportunity to use a one-price exhibit rental, Absolute Exhibits will discount all standard exhibit hardware rentals for PRI by 50% for signed orders received on or before October 19, 2015. All sales orders will include exhibit design, assigned project management, furniture, flooring, AV equipment, fabrication, shipping, and installation and dismantle. There will be no post show billing. This service and billing format is the rental package that positions Absolute Exhibits, a trade show booth rental company, apart from other exhibit providers in the USA.
About Absolute Exhibits
A leading exhibition firm, Absolute Exhibits provides clients with turnkey solutions for designing and fabricating exhibits while managing the entire trade show experience as a one-source trade show and convention exhibit resource. Established in 2000, with locations in Southern California, Las Vegas, Orlando, and Bucharest, Romania, Absolute Exhibits rents and sells custom and system exhibits at over 300 shows in the USA and in countries around the world.