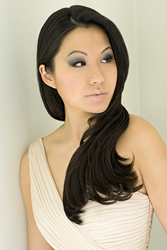 "... I have been performing regularly with AYS since the beginning of my career, and have been consistently blown away by the talent, focus, and precision of these young musicians..." – Sarah Chang, Concert Violinist
Los Angeles, CA (PRWEB) October 21, 2015
The American Youth Symphony is looking eagerly towards the future. Now in its sixth decade of operation, and in the midst of the final stages of selecting its next Music Director, the Board and Executive Director of AYS saw an opportunity to leverage the vast resources within the classical music community that the organization has built up over the last half century.
In this spirit, AYS has formed its inaugural Advisory Council, drawing on the talents and insights of leaders in the field, both performers and administrators, who have worked with AYS over the years.
"AYS is an institution in Los Angeles and our free concerts are a truly exceptional gift to the community. As a result of decades as a change-agent in the field of classical music at-large, both in terms of audience and musician development, AYS is privileged to count upon the support of many industry icons and leaders. This Council formalizes that level of support. We are very excited, and so thankful for the opportunity to work even more closely with our esteemed Council members. " – Varina Bleil, Executive Director of the American Youth Symphony
"When I was approached about joining the new Advisory Council for the American Youth Symphony, I knew immediately that I wanted to be involved. I have been performing regularly with AYS since the beginning of my career, and have been consistently blown away by the talent, focus, and precision of these young musicians. I consider it a privilege to support and mentor the next generation; they are the future of classical music." – Sarah Chang, Concert Violinist
"I couldn't be more truthful in acknowledging the role of [AYS] in my musical upbringing and the role [Co-Founder and Music Director Mehli Mehta] played as a teacher and mentor. I have so many of those hours in that rehearsal room imprinted in my memory and his words and actions were powerful in guiding me in those and the following years. I attribute my understanding of the musical world to his early guidance, more than the teachers before or after." – Deborah Rutter, President, John F. Kennedy Center for the Performing Arts
Heralded as "the finest youth symphony on earth," AYS has been training the best and brightest musicians and sharing free concerts with the community since 1964. Having long been considered a Los Angeles gem, the orchestra is now poised to rise to greater national prominence, with the support of this roster of industry influencers from across the country:
Sarah Chang
Concert Violinist
Sarah Coade Mandell
Philanthropist; Managing Partner, QRMS, LLC; Studio and Orchestral Double Bassist
Robert Cutietta
Dean, University of Southern California Thornton School of Music
Deborah Rutter
President, John F. Kennedy Center for the Performing Arts
Alan Silvestri
Composer and Conductor
Chad Smith
Chief Operating Officer, Los Angeles Philharmonic
Jean-Yves Thibaudet
Concert Pianist
Edward Yim
Vice President of Artistic Planning, New York Philharmonic
"We are fortunate to have this distinguished group help support and guide this organization." - Kevin Dretzka, Chairman of the Board of Directors of the American Youth Symphony
As one of the nation's leading pre-professional orchestras, the mission of AYS is to inspire the future of classical music by sharing exceptional free concerts based on it's landmark training of musicians ages 15-27. The orchestra provides paid fellowships to musicians representing extraordinary talent from all over the world.
The American Youth Symphony provides 21st century professional orchestral training to approximately 100 musicians each year, who are selected through a highly competitive audition process. Ranging in age from high school through doctoral programs, AYS musicians represent anywhere from 20 to 35 different schools each season.
Concerts are presented at renowned and respected venues such as Royce Hall and the Walt Disney Concert Hall. A typical season includes eight concerts in total, and the few concerts that are not free are offered at a significantly reduced ticket price, out of a longstanding commitment to eliminating the financial barriers to discovering and experiencing remarkable orchestral works.
Through the presentation of standard, contemporary and newly commissioned work, AYS prepares the very best aspiring musicians for careers in classical music, while concurrently building audiences that support this beautiful art form. Via high-quality programming and guest artists, innovative concerts designed to connect with younger audiences, and targeted outreach to diverse communities, AYS has a proven track record of engaging audiences that reflect the diversity in age, ethnicity and cultural background for which the great city of Los Angeles is known.
Learn more about the American Youth Symphony's mission, programs and events at AYSymphony.org
Press Contact: Alice Dutton | Alice.Dutton(at)AYSymphony(dot)org | 310-470-2332