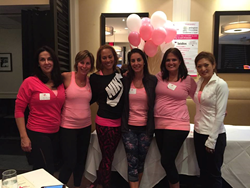 We believe in giving back to our community and sponsoring the 'Power of Pink' is just one small way we can help - Julie Crotty, CEO and Founder of Cleavitz.
Gaithersburg, Md. (PRWEB) October 21, 2015
Julie Crotty, founder and CEO of Cleavitz®, the most comfortable half cami in the marketplace today, will be sponsoring the fourth annual Power of Pink event to be held October 22 at the Equinox Health Club in Bethesda. The Power of Pink: Working Out to Stop Breast Cancer event raises money for breast cancer education, screening, and treatment for women throughout the Metro DC area who otherwise would not be able to afford this kind of care.
All the funds raised during the Power of Pink event will be distributed to Mercy Health Clinic and Capital Breast Care Center to help women with breast cancer scanning and treatment. The event includes a one-hour workout from 11:00 to noon, followed by a luncheon at the Redwood Restaurant and Bar. Registration starts at 10:45 at Equinox in Bethesda. The "Power of Pink" event is held in conjunction with national Breast Cancer Awareness month.
"We will gladly sponsor any event that gives 100 percent of the proceeds to fight breast cancer," said Julie Crotty, Founder and CEO of Cleavitz. "The Washington metropolitan area needs more screening services that can provide health and wellness education and treatment to women, regardless of their ability to pay. At Cleavitz, we believe in giving back to our community and sponsoring the 'Power of Pink' is just one small way we can help."
Cleavitz donates 2 percent of its revenue to the Georgetown Lombardi Capital Breast Care Center (CBCC).
At this year's Power of Pink event, Cleavitz will be raffling a $250 Health and Fitness Basket with a variety of Cleavitz cami crop tops and other health and fitness items. Laura Evans, news anchor and producer of the "Laura Likes" segment, will be the MC for this year's event.
About Cleavitz
Cleavitz® is the only patented crop top for women guaranteed never to ride or slide. Developed by founder and CEO Julie Crotty, the concept behind Cleavitz was to develop a simple, comfortable way for women to dress fashionably and accessorize professional attire at the same time. Women's camisoles, tank tops, and bras were either too revealing for the office, bunched up, or were too hot for summer wear. Cleavitz was developed to deliver comfort and style using a patented design and fabrics that were guaranteed to be fashionable and practical.
Cleavitz cami crop tops range from extra small to plus size and are available in different designs and fabrics, including super-soft cotton, silky shimmer, sexy lace, and plush velvet. For more information about Cleavitz or to see the entire line of affordable fashion solutions, visit http://www.cleavitz.com.