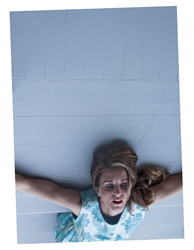 San Francisco, CA (PRWEB) October 21, 2015
Danielle Nelson Mourning
November
November 24 - December 17
Opening Ceremony: Thursday, November 19, 6:00 to 10:00 PM
Danielle Nelson Mourning is honored to present November, a three part installation created within her studio. November will highlight a collection of thirteen works in photography, film, mixed media and site-specific sculpture which highlight the artist's vast shift in psyche from 2005 to present. Symbolically structured into three rooms, Mourning considers our layered nature within the mind, body and spirit. This is Mourning's most ambitious exhibition to date and first solo show in San Francisco.
Room I contains two large-scale photographs taken in Marks, Mississippi and a Super 8 film entitled Memories of a Pleasant Visit. Mourning places herself in the position of her maternal and paternal grandmothers, donning their relics and honoring the connection to her ancestry. In these works, the veil of time between the physical and supernatural becomes hauntingly thin.
In Room II, Mourning uses disparate media to explore her body as related to traditional roles of sex, class, and religion while facing her Irish lineage and the spirits which have haunted her. Infinitely Comforting, a polyptych photograph, shows the artist upside down with opaque skin in a vintage blue dress, recalling the crucifixion, interpretations of the roles of women, and the paradigm shift women and men are currently facing. Included are two sixty-inch kaleidoscopic circular gems photographed and painted with acrylic entitled Death as Awakening and The Seduction. A stop animation film, Exorcism in Indigo Rhapsody plays on the eastern facing wall.
Room III is a point at which Mourning begins to face her connection with God, Soul and the temporal world. Inspired by the Divine Feminine, this space features Compass Rose, a sculpture compiled of hundreds of pieces of shattered mirror and Falling Star, a four piece photograph of a mirror facing the sun which creates an startling similarity to phases of the moon. Enlightenment, a self-portrait photograph of the artist climbing a massive mosaic meditation dome in India is of Mourning positioning herself as her uncle who chooses to live in silent meditation as a monk in the Himalayas over the last twenty years. Each piece of the mosaic is painted in gold leaf which slowly fades into white.
Danielle Mourning (b. 1976, San Francisco, CA) lives and works in San Francisco, CA. She received her MFA from the Royal College of Art in London, England in 2005. Upon graduation, she received the Deutsche Bank Pyramid Award for Fine Art, which both funded her work in Ireland and resulted in her work's inclusion in their permanent collection. Mourning cites American conceptual artist Christopher Williams as a significant influence on her practice, whom she worked for while attending Art Center College of Design. Her exhibition history includes solo shows in Los Angeles and New York.
The exhibit will be on view from November 24 until December 17, 2015 by appointment at the San Francisco Design Center Showplace, 2 Henry Adams Street, Suite 323, San Francisco, CA. For additional information and inquiries, please contact studio@daniellemourning.com. 10% of the proceeds of artworks from this show will go towards Lava Mae.