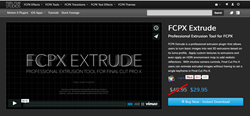 This is an amazing plugin that can give an image the look of 3D.
Aliso Viejo, CA (PRWEB) October 20, 2015
FCPX Extrude is a professional extrusion plugin that allows users to turn basic images into real 3D extrusions based on its luma profile. Users can apply custom textures to extrusions and a HDRI environment map to add realistic reflections. With intuitive camera controls, Final Cut Pro X users can animate extruded images without having to set a single keyframe in Final Cut Pro X.
Editors can round the edges of the height map and adjust the overall size of the shape with simplistic sliders. With clipping controls, users can erode the front and/or back of the extrusion. Lastly users can adjust the height slider to manipulate the overall extrusion amount. Editors can manipulate the environment camera to create dynamic camera angles and smooth camera movements.
Established in 2006, Aliso Viejo, California-based Pixel Film Studios is an innovative developer of visual effects tools for the post-production and broadcast community. Their products are integrated with popular non-linear editing and compositing products from Apple FCPX. Apple, the Apple logo, Mac OS X, and Macintosh are registered trademarks of Apple Inc. in the U.S. and/or other countries. All other trademarks and trade names are the property of their respective owners.