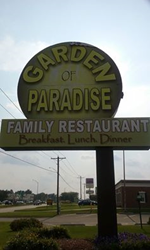 Their Food, and Service keeps customers coming back. .. .It Will be The Best Part of the Week
Bloomington, Illinois (PRWEB) October 22, 2015
In a college town, there are no shortages of restaurants to choose from, and locals have seen many come and go. Contrary to recent press, Garden of Paradise is one of the hallmark restaurants that has stood the test of time, remains the friendliest, family-oriented and truly welcoming places to take the entire family or a hot date in Central Illinois. For those who have not been there to eat yet, come treat the family. Hungry locals just might feel what its really like in the Garden of Paradise.
This family restaurant has the freshest meals in town. They also have a great selection of items from breakfast, lunch and dinner. From soups and salads to desserts -- not to mention their great selection of pie -- their customers keep wanting more, including the kids. The staff and service has been unsurpassed in Central Illinois for over 25 years. From the host and her warm greetings, the dedication of the waitress and the professionalism of the cooks, the Garden of Paradise will remain the treasure of the town and the admiration of all other family restaurants.
When customers take their trip to the best family restaurant in Bloomington, Illinois, they are humbled and satisfied with the ultimate experience of a local family-owned diner. It is businesses like these that make the town unique, strong, and remind us of the foundations of the American dream, of hard, honest work and success.
After a great meal in a friendly environment with the best staff, be sure to tip the waitress. Everyone knows how much a friendly gesture could turn someone's day completely around. It's well worth it. This just might be the best part of the week. Reward the kids by taking them to The Garden of Paradise.
Open All Week
Colonial Plaza, 1412 E Empire St, Bloomington, IL 61701
(309) 828-8080