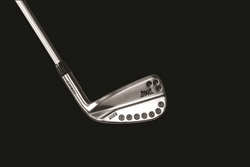 The PXG 0311 tour irons are unbelievable. They move through the rough easier and the workability is second to none. Parsons knocked it out of the park with these clubs.
Scottsdale, AZ (PRWEB) October 21, 2015
Parsons Xtreme Golf (PXG), the revolutionary new golf equipment company founded by billionaire and GoDaddy founder Bob Parsons, today announced the release of a new tour class iron. Employing the same groundbreaking technology that gave birth to the PXG 0311 irons, PXG 0311T irons are engineered for tour performance and extreme workability. The new tour class irons maintain PXG's distinctive look and feel, but offer players a more penetrating trajectory.
Forged from the same materials as PXG 0311 irons, the tour class irons have a slightly thinner top line and are more compact. They also have a narrower sole width and less offset. As a result, PXG 0311T irons launch lower and have slightly less spin creating a more penetrating ball flight.
PXG 0311T irons feature an ultra-thin face coupled with a structural thermo plastic elastomer (TPE) material. High-density tungsten alloy weights situate mass for an optimal CG position resulting in longer more consistent shots.
PXG professional Ryan Moore hit a set of PXG 0311T irons a few weeks ago and immediately put them in his bag. "For me, precise iron play is critical to shot-making," said the four-time PGA TOUR Champion. "The PXG 0311 tour irons are unbelievable. They move through the rough easier and the workability is second to none. Parsons knocked it out of the park with these clubs."
Ryan Moore is one of several tour players who have added the new PXG 0311T irons to their bag.
"The difference between the PXG 0311 and the 0311T is kind of like the difference between driving a sports car and riding a high-performance motorcycle," said Parsons Xtreme Golf founder Bob Parsons. "Both deliver an exciting ride, but one requires a bit more skill. More can go wrong on two wheels, but if you have what it takes to control a motorcycle it will out perform the sports car in every instance. At the end of the day the best option is really a matter of individual skill and personal preference."
"It's important to understand that PXG 0311T irons are not built to compete with game improvement or player's irons," Parsons went on to say. "We designed them to compete with blades – and there's not a blade in the world PXG 0311T irons won't significantly outperform in both feel and playability. To boot, PXG 0311T irons have a very unique look and a sexy one at that."
Designed for PXG's growing 2016 pro tour staff, which at last count includes eight top PGA and LPGA Tour players, PXG 0311T irons are available 3-PW in very limited quantities. Priced at $350 per club, PXG's tour irons can be ordered directly through Parsons Xtreme Golf. For more information or to be added to the waiting list for purchase call 844.PLAY.PXG or visit http://www.PXG.com.
About Parsons Xtreme Golf – PXG, A YAM Worldwide Company
Parsons Xtreme Golf (PXG) is based in Scottsdale, Arizona. The company was founded by GoDaddy founder, businessman and philanthropist Bob Parsons in 2014. Leveraging patented technology and sophisticated manufacturing processes that integrate high-performance alloys and elastomers, PXG produces the finest golf clubs in the world. The company has over 90 global patents issued or pending for its proprietary designs.
Parsons Xtreme Golf is one of YAM Worldwide's core businesses. Others include Scottsdale National Golf Club; Harley-Davidson of Scottsdale, Go AZ Motorcycles, Spooky Fast Custom Finishing, Southern Thunder Harley-Davidson and alternate retail outlets Graceland Harley-Davidson and Blues City Harley-Davidson; YAM Capital; YAM Properties; BIG YAM, The Parsons Agency; and The Bob & Renee Parsons Foundation.