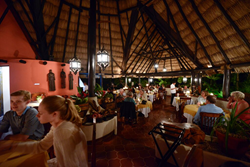 More people are wanting to celebrate the new year in way that leaves them actually feeling better.
San Ignacio, Belize (PRWEB) October 23, 2015
Belize's The Lodge at Chaa Creek has announced that it has now opened bookings for a unique New Year's Belize all-inclusive vacation package that offers a new way for families, couples and individuals to bring in the new year.
Chaa Creek's food and beverage manager and assistant GM Bryony Bradley said new 2015-16 all-inclusive vacation packages offer a fresh, healthy take on traditional revelry.
"Over the years, we've seen that more and more people are wanting to celebrate the new year in a way that leaves them actually feeling better. Our guests have said that waking up surrounded by nature and looking forward to a day of swimming and other outdoor activities is a great way to start the year ahead.
"With that in mind, we've created an all-inclusive Belize vacation package that lets guests enjoy hearty yet guilt-free celebrations while spending quality time with the people most important to them. And with everything except alcoholic drinks included in one affordable set price that covers a complete rainforest holiday, there's no worries about having to face huge bills or credit card surprises when they return home," she said.
"Perhaps best off all, even with fine dining, champagne and other luxuries, you begin the new year healthier, more in tune with nature and feeling better about yourself," she added.
Ms. Bradley explained that Chaa Creek's "New Years Rainforest Celebration" all-inclusive Belize vacation package includes eco-luxe accommodation, all meals with a special New Year's banquet, all activities, tours, guided nature walks and access to all amenities within the eco-resort's 365 acre private nature reserve, including an infinity pool, the Belize Natural History Museum, butterfly farm, Maya organic farm and medicinal plant trail, tropical gardens, stables, fine dining restaurant, Jungle lounge, canoes and more.
The Gayot's Guide-recommended Hilltop Spa is available for a range of professional spa massages, body wraps, facials and other treatments, and horseback and mountain bike riding, Maya temple exploration, bird watching and nature walks through the miles-long network of jungle trails and canoeing or tubing down the Macal River are also offered, she explained.
"With Chaa Creek literally surrounded by ancient Mayan temples and archaeological sites, it's also a way to explore the past while ringing in the new," Ms. Bradley said.
Ms. Bradley stressed that Chaa Creek's all-inclusive Belize vacation packages have built-in flexibility to accommodate a range of interests, such as tours of Belize's ancient Mayan ceremonial caves and the Mayan city of Tikal in nearby Guatemala. Options to combine a Caribbean holiday at one of Chaa Creek's partner resorts on Belize's Caribbean coast, cayes and Great Barrier Reef are also available, she added.
"We work with our guests to ensure that their Belize New Year's vacation is everything they could wish for it to be. Special needs, dietary requirements and services such as experienced child-minding can all be catered for," she said.
Ms. Bradley advised that, considering the growing popularity of Belizean New Year's celebrations, interested parties should contact Chaa Creek or their travel agents soon for more details and booking information.
"Having hosted over thirty New Year's celebrations now, we're confident of being able to throw a great party. And with so many different things to see and do here, we can promise a complete New Year's vacation that will never be forgotten," Ms. Bradley said.
The Lodge at Chaa Creek is a multi award winning eco resort set within a 365-acre private nature reserve along the banks of the Macal River in Belize.
ENDS