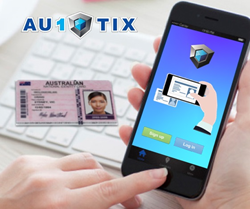 We pride ourselves at emphasizing safer and securer service. We have found AU10TIX BOS clearly superior to any other solution on the market. Being able to offer latest ID fraud protection while enhancing customer experience is a win-win situation.
Nicosia, Cyprus (PRWEB) October 23, 2015
With recent major customer data breaches making headlines (See: http://www.scmagazineuk.com/data-breaches-are-out-of-control--act-now-or-get-fired/article/447858/) Lending Works can now offer even higher standards in ID fraud protection, while streamlining onboarding and improving operating efficiency. AU10TIX BOS is the first and only 2nd generation ID authentication and record generation technology on the market today. Unlike conventional 1st generation solutions, AU10TIX BOS is 100% automated from document auto-classification, through multi-factor ID image authentication and up to delivering a ready-to-use customer dataset. Latest machine-learning enhanced algorithms make BOS exceptionally speedy and far better at handling sub-optimal image qualities. BOS has already been adopted by the leading names in financial services worldwide, and is marked by experts and the imminent standard in online Secure Customer Onboarding.
"Our vision is to create a credible and desirable alternative to high street banks, offering the products our customers actually want in a fair way." says Richard Litchfield, Head of Credit Underwriting at Lending Works: "We pride ourselves at emphasizing safer and securer service. We have found AU10TIX BOS clearly superior to any other solution on the market. Being able to offer latest ID fraud protection while enhancing customer experience is a win-win situation. And being able to do that even more efficiently and cost-effectively than before is an obvious triple winner"
"We are happy to have Lending Works onboard", says Ron Atzmon, Managing Director of AU10TIX: "And we are glad to have proven superior to any conventional solution yet again. It is already well acknowledged that automating ID authentication and record generation are critical to survival and growth in today's marketplace. But what makes a real difference is being able to do that as fast as possible and at the highest success rates at the challenging conditions of the online, customer-not-present environment. We are proud to contribute to the success of more and more online financial services providers".
"The latest customer data breaches that hit major players have made it clear that checking customer data against referencing services is not as secure as it used to be", says Ofer Friedman, VP Marketing of AU10TIX: "Being able to detect manipulations in customer ID images even when the data they contain is perfect has become even more important now. But more than that, seconds-fast, effective ID authentication can actually increase conversion rates and boost traffic handling capacity while saving operating costs and improving operating efficiency. "
About Lending Works
Lending Works is a peer-to-peer lending platform which matches shrewd lenders with creditworthy personal loan borrowers, so both receive a much better deal. By cutting out the large financial institution in the middle, lenders receive great returns and borrowers receive low cost, flexible personal loans. There are no banks, no big bonuses and no sneaky fees. Lending Works was founded with the belief that financial services should be fair again by giving the consumer control of their finances. Lending and borrowing directly from each other benefits real people, not the bank.
For more information, please visit http://www.lendingworks.com/
About AU10TIX
AU10TIX Limited, a fully owned subsidiary of ICTS International N.V, deals with the authentication and digitization of identifying documents including Passports, identity cards, driving licenses and other complementary identifying documents. The company specializes in implementing hardware & software based applications used for scanning, identifying, content retrieval, authentication and validation of identifying documents. AU10TIX is a pioneer of all-channel (front-end and online) ID authentication and processing solutions. The company's products drastically reduce identifying document-based fraud, reducing the costs associated with client processing and enabling effective regulatory compliance, while making the sales and support operations speedier and considerably more efficient.
For more information, visit http://www.au10tix.com
About ICTS International N.V.
ICTS specializes in the development and implementation of innovative security concepts and solutions designed to meet the needs of a variety of industries, mainly aviation transportation, border control and sensitive facilities. ICTS International benefits from over two decades of expertise and international operational experience in transportation security, with a particular emphasis on high-risk environments, passenger processing transactions and the integration of security services to provide a comprehensive security solution. It also offers a wide variety of customized training programs, tailored procedures and a wide range of security consulting services. The company has developed and implemented unique technological solutions, based on its comprehensive approach to security, designed to enhance the level of security while accelerating the security check process.
For more information, visit http://www.icts-int.com
This press release contains "forward-looking statements" within the meaning of the Private Securities Litigation Reform Act of 1995, regarding the Company's business strategy and future plans of operations. Forward-looking statements involve known and unknown risks and uncertainties, both general and specific to the matters discussed in this press release. These and other important factors, including those mentioned in various Securities and Exchange Commission filings made periodically by the Company, may cause the Company's actual results and performance to differ materially from the future results and performance expressed in or implied by such forward-looking statements. The forward-looking statements contained in this press release speak only as of the date hereof and the Company expressly disclaims any obligation to provide public updates, revisions or amendments to any forward-looking statements made herein to reflect changes in the Company's expectations or future events.
Contact:
Lending Works
Richard Litchfield, Head of Credit Underwriting
Tel.: +44 (0)207 096 8512
AU10TIX
Ofer Friedman, VP Marketing
Email: ofer.friedman(at)au10tix(dot)com
Tel.: +357 (22) 007698
ICTS International NV
Alon Raich
Email: mail(at)ictsinternational(dot)com
Tel.: +31-20-716 3421