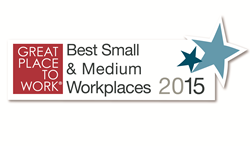 Austin, TX (PRWEB) October 21, 2015
Fortune and Great Place to Work® have named Square Root, an Austin-based Software as a Service (SaaS) company, the second best small workplace in the United States on their annual 2015 Best Small and Medium Workplaces list, published today on Fortune.com. This is the second consecutive year that Square Root has been recognized for its exceptional workplace culture by Fortune and Great Place to Work.
The 2015 Best Small and Medium Workplace list consists of 50 national companies which were rigorously evaluated amongst hundreds of competing businesses. The list includes companies ranging in size from 25 to 999 employees in the small and medium employer category. The selection process includes in-depth evaluations of company benefits and practices along with an employee survey that is assessed using the unique scoring methodology created by Great Place to Work®.
"Building great software is all about the having a great team. Our goal at Square Root is to have a culture that attracts the best people and allows them to thrive both personally and professionally." said Chris Taylor, CEO of Square Root. "The multifaceted team at Square Root is a fantastic group that makes me look forward to coming to work every day. This recognition from Fortune and Great Place to Work is a testament that we are indeed thriving."
As its team and business are quickly scaling, Square Root continually works to enhance its culture and stay strongly aligned to its four core values: Be Customer Inspired, Think Big. Do Bigger, Partner, and Thrive. The company empowers its employees with a philosophy of individual and team ownership balanced with a flexible work and vacation schedule. Other company perks include a unique office space split between four craftsman houses in downtown Austin, a yearly $3,000 training stipend, regular team building activities ranging from community service to Segway races, fully stocked kitchens, "craft" bar including a bourbon collection and beer brewed by the engineering team, exercise and wellness programs, and frequently catered lunches including monthly "cross-team" outings so everyone continues be connected as the company grows.
A full list of 2015 Great Place to Work 50 Best Small and Medium Workplaces rankings will be featured in Fortune magazine on newsstands October 26, 2015 and can be found online at http://fortune.com/best-small-workplaces/.
About Square Root:
Square Root, an Austin-based Software as a Service (SaaS) company, creates technology solutions that power data-driven decision making for leading automotive and retail enterprises. Built for companies with distributed retail networks, Square Root's store relationship management platform, CoEFFICIENT®, delivers actionable data insights to align organizations, increase transparency, encourage collaboration, and improve store performance. Founded in 2006, Square Root has been bootstrapped to success, and serves as a trusted partner to many of the most well-known and complex enterprises in the world. For more information, visit http://www.square-root.com.
About Great Place to Work®:
Great Place to Work® is the global authority on high-trust, high-performance workplace cultures. Through proprietary assessment tools, advisory services, and employer branding programs, including Best Companies lists and workplace reviews, Great Place to Work® provides the benchmarks, framework, and expertise needed to create, sustain, and recognize outstanding workplace cultures.
In the United States, Great Place to Work® produces the annual Fortune 100 Best Companies to Work For® list and the Great Place to Work® Best Small & Medium Workplaces list.Follow Great Place to Work® online at http://www.greatplacetowork.com and on Twitter at @GPTW_US.
About Fortune:
Fortune is a global leader in business journalism with a combined audience of more than 9 million readers in print and online. Fortune covers bold innovators, smart companies, new ideas and innovative strategies that inspire the Fortune audience to accelerate their business success. Fortune's major franchises include the Fortune 500, the 100 Best Companies to Work For, World's Most Admired Companies, 40 Under 40 and Fastest-Growing Companies. Fortune hosts a wide range of annual conferences, including Fortune Most Powerful Women, Fortune Brainstorm Tech, Fortune Brainstorm E and the Fortune Global Forum. Fortune was the first business magazine with an iPad app and has more than 1.5 million followers on Twitter. Fortune.com launched on June 1, 2014 and has seen rapid growth since launch reaching an average of over 7mm monthly unique visitors. See the latest from Fortune online at Fortune.com and on Twitter @FortuneMagazine.