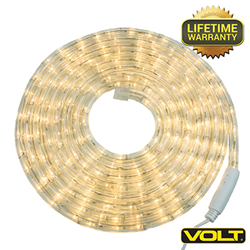 The VOLT® rope lights . . . eliminate the risk of electric shock.
Tampa, Florida (PRWEB) October 22, 2015
VOLT® Lighting announced today the introduction of VOLT® Low-Voltage LED Rope Lights. While rope lights are a common outdoor fixture type, they are nearly all powered by 120 volts; this presents an electric shock hazard. The VOLT® rope lights are powered by a safe 12-volt current, thereby eliminating the risk of electric shock and equally importantly are compatible with landscape lighting systems.
There are over 1000 electric shock injuries per year (in the United States) due to workers' contact with lighting fixtures and similar appliances (data from IESFI). This risk is worsened when the lighting fixture is located outdoors in an environment where weather and landscape work may damage the product.
In addition to the safety benefit, the VOLT® LED Rope Lights use highly efficient LED circuits to provide the illumination. With an energy consumption of only 5 watts for the 16-foot length, this compares to incandescent rope lights that may consume 57 watts for that same length – or more than 10 times the energy cost.
Steve Parrott, VOLT® Communications Director, describes additional benefits of the new lights, "We usually see rope lights wrapped around trees at hotels and restaurants, but they have many other applications in the landscape. They can be wrapped around columns or pillars, attached to railings or ledges, or hidden behind garden edging. The fact that these are low voltage fixtures means they do not require an electrical junction box with fixed conduit. Instead, they can be easily tied into existing landscape lighting systems and be safely installed by homeowners and landscapers trained in low voltage work."
Parrott continues, "This recent product introduction from VOLT® Lighting is one of over a dozen new products introduced in the last two months. The company's rapid rate of product development reflects our success in the lighting marketplace. With significant investment in technology and resources, we provide the quality products and stellar customer support that are so highly valued by the market."
The VOLT® LED Rope Lights can only be purchased through the company's website, http://www.voltlighting.com.
About VOLT® Lighting
VOLT® Lighting is a factory-direct supplier of high-quality, low-cost indoor and outdoor lighting products and systems. The company features 7-days-a-week customer service, fast shipping, and lifetime warranties. For more information call 813-978-3700 or email (customersupport(at)voltlighting(dot)com).