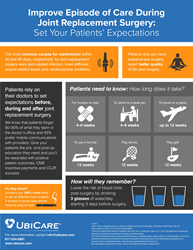 Boston (PRWEB) October 29, 2015
Setting patient expectations early is shown to improve patients' episodes of care, improve patient outcomes and reduce readmission rates. It also prepares orthopedic hospitals for Centers for Medicare & Medicaid Services (CMS) initiatives like Comprehensive Care for Joint Replacement (CCJR), which ties CMS incentive reimbursement payments to reduced readmission rates and complications and improved HCAHPS scores.
But many orthopedic hospitals are not yet managing a patient's full episode of care—from before the patient enters the hospital through post-acute care—and setting patient expectations as early as they need to be. The infographic below and attached shows why they must, whether they're currently participating in CCJR or not.
Infographic: Improve Episode of Care During Joint Surgery—Set Your Patients' Expectations
Mission Health System successfully uses a digital access and education solution that guides patients through what to expect before, during and after joint replacement surgery.
In addition to lowering anxiety pre-surgery and improving outcomes post-surgery, the solution benefits Mission patients' health in ways that relate directly to CCJR's goals. Data show that because of the solution*:

93% of patients are more confident in their ability to take care of themselves, making them less likely to be readmitted and more likely to go home after surgery when appropriate.
93% of patients are better able to care for themselves and 87% percent say they feel more prepared their surgery, hospital stay and rehabilitation, reducing the likelihood of complications.
94% of patients are more connected to the hospital, leading to higher HCAHPS scores
*Data is based on patient feedback reported September 2015.
Lower readmission rates, fewer complications and higher HCAHPS scores—these are the main goals of CCJR and are easily achievable when hospitals manage the full episode of care through an automated patient access and education solution.
Read about the top 3 quality-of-care concerns of CCJR and how to address them, and learn why patients—and their hospital—do better when they are engaged throughout the entire episode of care.
###
About UbiCare
UbiCare, an award-winning digital healthcare communications and technology company, creates connections that make us all better.
By building and sustaining effective patient/provider relationships throughout the care continuum, UbiCare reduces unnecessary healthcare costs by up to 30%. UbiCare messaging series essentially turn hospitals and health systems into patient-centered innovators, educating patients and improving satisfaction.
UbiCare earned a Dun & Bradstreet customer-service rating of 93 percent. Clients include Texas Health Resources, Boston Children's Hospital and the Department of Defense. For more information, visit http://www.ubicare.com.