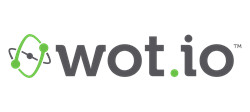 New York, NY (PRWEB) October 21, 2015
wot.io™, the data service exchange™ for connected device platforms, today announced a collaboration with CyberVision, a trusted global provider of software engineering services. CyberVision is the company steering the development of the Kaa® IoT Platform, an innovative open-source Internet of Things (IoT) middleware. Together the two companies will join forces to give the IoT community a powerful open toolkit for building modern IoT solutions, and connecting those solutions to a range of integrated data services.
Kaa is a production-ready, multi-purpose middleware platform for building end-to-end IoT solutions, connected applications, and smart products. "Kaa jump-starts the development of IoT products and dramatically reduces associated costs, risks, and time-to-market," said Andrew Kokhanovskyi, CTO of CyberVision. "We think wot.io's data service exchange is an excellent model for such a collaboration, because of the natural symmetry between both the philosophies and technologies of our two companies."
Kaa allows companies to build and manage both large and small networks of connected devices, perform real-time monitoring of devices and their data, deliver notifications and distribute software and firmware updates, all from an open-source platform. Kaa software development kits are capable of being integrated with virtually any type of connected device or microchip.
"We exist to help enterprise customers turn their IoT deployments from a cost center into a revenue stream," said Jim Brandt, wot.io's Vice President of Product for Data Services. "CyberVision and Kaa are a vital piece of the puzzle for this long term strategy, because they provide an open set of tools for developing custom IoT deployments."
About CyberVision
With over twenty years of experience, CyberVision is a trusted global provider of software engineering services in high tech domains, among which are IoT, Big Data, Consumer Electronics, Cloud, Mobility, and Web. With our expanding pool of top grade engineers, mathematicians, and scientists, we successfully deliver projects of any scale and complexity.
CyberVision is also the company behind Kaa, an open source cloud platform that enables rapid implementation of advanced IoT products and solutions. Capitalizing on rich capabilities of Kaa platform and solutions from our partners, we provide engineering, integration, and support services that maximize our clients' value proposition on the IoT market.
About wot.io
Founded in 2014, wot.io is the data service exchange for connected device platforms. wot.io enables the enterprise customer to derive significant value from their data while dramatically accelerating time-to-market for Internet of Things (IoT) and Machine to Machine (M2M) implementations. wot.io's data service exchange of best-in-class data services enables customers to focus on building their solution while freeing them from the time consuming effort of making contractual agreements and technically integrating each data service. Through choice, time-to-market and scalability we help our customers to drive ROI and increase revenue with their solution using analytics, business intelligence, data retention, device management, data management, monitoring, visualization, reporting, web API automation and other offerings.
wot.io and its logo, and data service exchange are trademarks of WoT.io, Inc. All other company or product names, brands, trademarks, and logos are the property of their respective owners. All rights reserved.
###