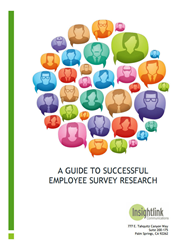 Gray says, 'There is a tremendous need for people to know that work is a two way street and that they feel they are recognized and appreciated for the effort that they make.'
Palm Springs, CA (PRWEB) November 05, 2015
Insightlink Communications, a veteran in the employee survey industry recently published their updated 2015 Guide to Conducting Employee Surveys. The guide is a free step by step handbook designed to give HR professionals and small business owners the benefit of 30 years of research experience and advice for conducting successful employee surveys. To measure the guide's impact and usefulness, Insightlink shared an advance copy with their new and existing clients and the positive feedback they received inspired them to make it more widely available, based on their belief that all employees deserve to feel committed to their work and that their employer is equally committed to them. It is this win-win relationship that is the essence of building employee engagement; something that employers should recognize is essential for increasing loyalty, profitability and job satisfaction, as well as lowering turnover, absenteeism and work-related accidents.
As the demand for employee engagement surveys increases and more organizations continue to experience the benefits of increasing employee engagement, Insightlink felt it was important to share advice on how to design and execute a survey to make it as meaningful as possible. They also want people to know that results can be instrumental for initiating positive change within an organization if they are managed properly. Robert Gray president of Insightlink has read through thousands of surveys and when asked what was one of the most common take-aways, he replied, 'what we hear from the majority of employees is the need for recognition. There is a tremendous need for people to know that work is a two way street and that they feel they are recognized and appreciated for the effort that they make. We also know that employees don't really care about the results of a survey per se but they do care that action is taken afterwards. If nothing happens, they can become cynical and frustrated with their employer. In that case doing the survey without any follow up is worse than not doing one'.
The guide is an in depth step-by-step handbook that is designed to empower and help individuals and organizations by giving them the tools they need to make their survey investment as meaningful and actionable as possible. The guide is divided into 7 sections and begins by defining survey goals and objectives. Best practices and choosing the right employee survey company are next, followed by tips on how to get maximum participation rates. The guide provides data collection and reporting 101 tips and explains how to convert the data into effective action planning.
HR professionals and organizations interested in learning more about employee engagement and Insightlink's employee survey capabilities can visit http://www.insightlink.com or to schedule a demo and speak to a representative contact Lynn Lacey Gore at 1-866-802-8095 ext. 705.
About Insightlink Communications
Insightlink Communications is a leader in full service employee surveys and offers a range of employee survey products and services to fit their client's needs. With over 15 years of experience, Insightlink's reputation has been built on giving organizations the knowledge they need to create effective change using their acclaimed employee research, analytics, benchmarking and survey methodologies.