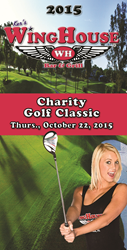 Largo, Fl. (PRWEB) October 22, 2015
The WingHouse Bar and Grill will host the sold-out 2015 WingHouse Golf Tournament on Thursday October 22nd at the beautiful Cypress Run Golf and Country Club in Tarpon Springs Florida. Registration begins at 11:00 am and a shotgun start at 1:30 pm. Following the tournament, an awards and recognition dinner will be held. All proceeds from the event will be donated to the Tampa Bay based Pediatric Cancer Foundation.
"This tournament is a great way for WingHouse to thank our business partners for their continued partnerships and to raise money for a great charity that helps children" says WingHouse CEO Terry Ryan. "This will be a great day of golf, food and drink, and networking all in an effort to support a great charity. Children's charities are very near and dear to the heart of The WingHouse" Ryan added.
A sincere thank you to all of The WingHouse Golf Tournament Corporate Sponsors and Professional Golf Events of Tampa:
Title Sponsor: Sysco and Creative Solutions
Gold Sponsors: Miller Coors, Colorfast Printing, Samuel Adams, Amick Farms, Republic National Distributing Company, Slyce Pizza
Silver Sponsors: McCain Foods, Fifth Third Bank, Account Management Plus, Point of Impact Consulting, Chef Creations, Bryan Hindman Electric, Unifirst, Beltram Foods, American Asphalt Paving, AMr-Jac Poultry, Aflac, GTE Financial, Restaurant Technologies, BrightHouse, Anheuser-Busch, M.E. Wilson Company, Martin Millers Gin.
About The WingHouse
Founded by the National Football League's (NFL) Dallas Cowboys and Denver Broncos alumnus, Crawford Ker, the first WingHouse opened in Largo, FL in 1994. The WingHouse staff's dedication and teamwork was a recipe for success. Now, WingHouse has 25 locations throughout Florida with a 26th location in Doral and 27th location on Dale Mabry in Tampa, Florida opening in early 2016.
All WingHouse restaurants are open for lunch and dinner and feature full-service bars with a wide selection of specialty cocktails and major domestic, imported, and craft beers. Voted Best wings in the bay area by fans, The WingHouse offers more than just their famous wings. Seasonal offerings include peel and eat shrimp, hearty soups, comfort classics and delicious desserts.
The WingHouse features state-of-the-art TV packages for local, national, and regional favorite sports coverage, plus WWE, Boxing and UFC Pay-Per-View Events. The authentic sports memorabilia and fun, friendly, casual environment make WingHouse the ideal place to be a sports fan.
The main attraction is The WingHouse version of "The Girl Next Door", the World Famous WingHouse Girls. The WingHouse Girls are the foundation of the WingHouse concept. They serve tables, tend bar, work as hostesses, participate in brand promotions and are the company's cheerleaders. The WingHouse Girls are attractive and polite. As ambassadors of the WingHouse mission to be "brilliant on the basics", their great service, positive attitudes and pretty smiles encourage guests to make frequent visits and become loyal customers.
The WingHouse strives to create a quality and memorable experience for every guest! The WingHouse is proud of its history, and is looking forward to a bright future! For more information, visit http://www.winghouse.com.
About the Pediatric Cancer Foundation
In 1991, two mothers faced every parent's worst nightmare. Their children were diagnosed with cancer. Melissa Helms and Risa Tramel met at St. Joseph's Children's Hospital in Tampa while their infant daughters were undergoing cancer treatments. Through research advancements, both of their daughters survived and are now healthy young adults. However, through this experience, Melissa and Risa were inspired to continue fighting this disease.
Together, they founded the Pediatric Cancer Foundation, a non-profit organization whose mission is to fund research that will lead to the elimination of childhood cancer worldwide.
Over the past 23 years, the Pediatric Cancer Foundation has donated more than $6 million to researchers. For the first 15 years, the Pediatric Cancer Foundation funded seed grants at St. Joseph's Children's Hospital and Moffitt Cancer Center in Tampa, All Children's Research Institute in St. Petersburg, the University of Florida in Gainesville, and the University of Miami School of Medicine.
In 2005, the Pediatric Cancer Foundation formed the Sunshine Project, an innovative collaboration with one goal: to bring together the nation's top doctors and researchers to fast-track new treatments and increase the survival rate for children battling cancer.
Through the establishment of the Sunshine Project, the Pediatric Cancer Foundation has developed a business model that capitalizes on the strengths of researchers from all different fields of science and streamlined the process to accelerate the development of new treatments.
Best of all, the Pediatric Cancer Foundation has proven that this collaborative model works. Since 2005, we have funded four Phase 1 Clinical Trials. New compounds have been, and continue to be, tested and hold great promise for children who have not experienced positive results under the standard treatment protocol. For more information please visit http://www.fastercure.org.