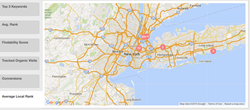 We don't want to contribute to the confusion and frustrations we've heard from marketers who are overwhelmed by stand alone tools and disparate data. We want to be the solution, not part of the workflow problem.
San Francisco, CA (PRWEB) October 22, 2015
GinzaMetrics, the leader in the science of findability, today announced their new local and mobile suite of tools to respond to the quickly changing needs of marketing and SEOs prompted by current mobile and local search trends. GinzaMetrics' newest suite of tools include Local Search, Mobile Integration, Deeper Crawl, Embedded Reports, and Sortable Recommendations. In concert, these tools are aimed at easing the greatest challenge to 53% of marketers, the ability to measure content effectiveness, according to the Content Marketing Institute.
The New Local and Mobile Suite of tools includes:
Local Search Data Ranking- Marketers can now determine where key audiences are finding their content. Using this tool, users receive ranking results on all content by chosen locations. To help visualize data, ranking position is displayed in sortable charts and graphs, as well as on an interactive geographical map on the dashboard. Unlike other solutions in the market, GinzaMetrics includes local search data as part of its current plans and not as a stand-alone tool or expensive add-on.

Deeper Crawl - Deeper Crawl allows brands to see ranking results for all site content, regardless of current search engine ranking or targeted keywords. With Deeper Crawl, previously undetected content can be found by marketers and SEO's, improved with recommendations, and included in campaign reporting and optimization options.
Mobile Integration - The GinzaMetrics dashboard gives users the option of tracking search results by specific device and filtering data by devices individually or in aggregate throughout the platform. Using site settings, users can target iPhone, iPad, Android Phone, and Andriod Tablet devices, as well as drill downs for all mobile, tablet, and desktop options. Using these options, marketers and SEOs can access the most granular data on how audiences are finding their content, via specific campaigns and keywords, and then can see recommendations to continue to improve.
Sortable Recommendations - This feature allows marketers to focus their attention on the content recommendations that will make the most difference right now. Users sort suggested improvements by keyword or content groups, campaigns, or location. Sortable recommendations give marketers the option to determine their own priorities and create a hit list of tasks and targeted content to assign team members and create their own prioritized workflow.
Embedded reports - Using this feature our users can embed any module, or combination of modules, in the dashboard into email as a regular or one time report. Coupled with GinzaMetrics free white label capabilities, agencies can have a completely custom dashboard and reporting system for each client using their own branding and layout.
The suite of tools is part of a move by GinzaMetrics to provide flexible, customizable, and scalable solutions to help marketers avoid the problems associated with having too many stand-alone tools, or allocating large portions of their budget to big box tools that cannot be molded to their needs. Their release of custom dashboards earlier this year was part of a product focus to support marketers and SEOs looking for flexibility in data views and reporting.
"We've resisted the temptation to push tools and features into the market before they could be fully integrated into the existing platform," stated Ray Grieselhuber, Founder & CEO GinzaMetrics. "We don't want to contribute to the confusion and frustrations we've heard from marketers who are overwhelmed by stand alone tools and disparate data. We want to be the solution, not part of the workflow problem."
"GinzaMetrics believes in an approach to product development that works in tandem with customer requests at the individual level and market needs at the broader level," says Erin O'Brien, COO. "Taking into account the requests and frustrations we hear from customers has to be coupled with longer term platform needs and an actual cohesive product - not the Lego-building effect of tacking on features without real integration and usability."
Ginzametrics is a multi-national company pioneering the science of findability. Designed to meet the needs of any size organization, GinzaMetrics' SaaS platform provides marketing intelligence and reporting, while delivering the tactical tools needed to implement strategic recommendations and optimize content. Their software solution delivers daily updates and recommendations that go beyond web presence management to help companies and individuals meet marketing and business goals. Founded by Ray Grieselhuber in 2010, Ginzametrics is an international company headquartered in San Francisco, California with offices in Japan. Ginzametrics has received funding through Y Combinator and 500Startups.