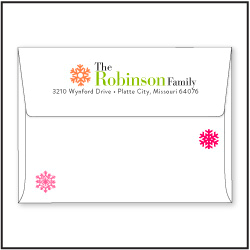 Alpharetta, Georgia (PRWEB) October 23, 2015
They say a picture is worth a thousand words…now, in addition to sharing photos on cards, photos can be shared on the outside of envelopes too. From logos and photos to custom type fonts and more, the envelope is no longer wasted canvas; it's an opportunity for self-expression.
Paperstyle.com recently launched Custom "Uniquely Yours" Envelope Personalization - http://www.paperstyle.com/is-bin/Tips/Envelopes-That-Stand-Out-In-The-Mailbox - a feature that provides customization on the outside of the envelope - choices include square and rectangular photos in various sizes as well as corporate logos, custom type fonts and motifs in color.
Holiday cards, birth announcements, wedding invitations, corporate and special event invitations are now perfect opportunities to impress friends, family and customers.
"We know customers are always looking for ways to set themselves apart and this new feature does just that," said David Grocer, president of Paperstyle.com. "The initial feedback is that these envelopes really stand out in the mail."
# # #
About PaperStyle.com
PaperStyle.com offers unique and stylish custom invitations, announcements, photo cards, and stationery in an array of designs to meet all special occasions. PaperStyle.com promises same-day printing and shipping on over 20,000+ items (orders submitted by 2 p.m. EST Monday - Friday). An exclusive team of Paper Stylists are on-call to assist customers in their design choice, personalization, or presentation. All orders have a 100% happiness guarantee. For more information, visit http://www.paperstyle.com.