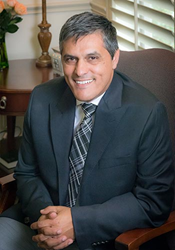 Allen, TX (PRWEB) October 21, 2015
Dr. Marco Cueva honors Dental Hygiene Month by encouraging those with tooth loss in Allen, TX, to seek treatment at his practice. When tooth sockets are left empty, it may lead to several complications, including shifting of the teeth and jawbone degradation. Patients may be able to prevent these complications and improve their self-esteem by receiving dental implants.
Individuals with tooth loss in Allen, TX, are invited to celebrate Dental Hygiene Month by receiving dental implants from Dr. Cueva. Many dental and periodontal professionals recommend implants because of their long-term viability, as well as their simulated natural appearance. Those who care for their implants in an optimal manner are unlikely to require implant replacements in the future. Proper care involves brushing and flossing on a daily basis, as well as maintaining regular, dental cleaning appointments to ensure the optimal health of the gums.
Some individuals may not initially be ideal candidates for implants. If tooth sockets have remained empty and unstimulated for excessive periods of time, the bone beneath the area may have deteriorated to a detrimental point, where it no longer has sufficient structure to support an implant. In such cases, Dr. Cueva will examine the area to determine whether a bone graft is necessary, before the patient can receive one or more implants. Two surgical appointments may be necessary.
During implant placement, a titanium screw is secured within the jaw. The area must be provided sufficient time to heal before the implant is surgically uncovered and a crown is attached to the top by your general dentist. The crown is precisely replicated to the shades of surrounding teeth, in order to simulate a natural appearance. The patient is provided specific instructions, regarding the care of the implant site, during the recovery period. When the entire process is complete, the patient is left with a durable, natural-appearing tooth in place of an empty tooth socket.
Patients with tooth loss in Allen, TX, are encouraged to improve their oral health during Dental Hygiene Month by receiving dental implants from Dr. Cueva.
About The Doctor
Periodontic Excellence is a periodontal practice offering personalized dental care for patients in Allen, TX. Dr. Marco Cueva is a Board Certified Periodontist and has extensive education in periodontology and dental implantology. He attended the Federal University of Parana where he received his Doctor of Dental Surgery Degree, and completed three additional years of training at Camillo Castelo Branco University, before training at Baylor College of Dentistry. Dr. Cueva also earned his Masters of Science Degree in Oral Biology with a certification in Periodontics from Texas A&M University Health Science Center- Baylor College of Dentistry. Dr. Cueva offers a variety of services, specializing in dental implants, All-on-4® and the minimally invasive Chao Pinhole® Surgical Technique for treating receding gums. To learn more about the services offered at Periodontic Excellence, please visit the website at http://www.perioexcellence.com or call (972) 704-1101 to schedule an appointment.