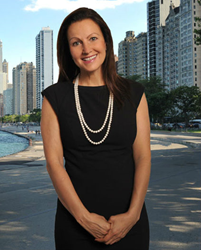 (PRWEB) October 21, 2015
Joanne Nemerovski, a licensed luxury real estate agent in the Chicago market, has joined the prestigious Haute Living Real Estate Network.
The Haute Living Real Estate Network (HLRN) of Hauteresidence.com is proud to recognize Joanne Nemerovski as a prominent and award-winning real estate professional and the network's newest partner. HLRN unites a distinguished collective of leading real estate agents and brokers, highlighting the most extravagant properties in leading markets around the globe for affluent buyers, sellers, and real estate enthusiasts.
About Joanne Nemerovski:
Joanne Nemerovski is a professional broker associate with the Lincoln Park office of Berkshire Hathaway Home Services. In 25 years of selling real estate, she has helped over 900 families buy and/or sell their homes, representing a total well over $1 billion in real estate. She has consistently been one of Chicago's top producing luxury realtors, specializing in the city's most desirable neighborhoods: Lincoln Park, the Gold Coast, River North, Steeterville, DePaul, and Lakeview.
Within the first five years of her career, she was the youngest recipient of the "Founders Award" for selling over $100 million in real estate. She is a regular contributor to articles in several business and industry publications, including Crain's and Chicago Agent and Chicago Magazine. She has been named one of the "Megabrokers of the Midwest" by luxury real estate publication, Unique Homes, and has received numerous awards from The Chicago Association of Realtors. In 2007, she was ranked simultaneously as the number one agent at Koenig & Strey and the number two agent at GMAC out of 22,000 sales agents nationwide. In April 2008, recognizing a fabulous opportunity, she moved to Prudential Preferred Properties. She has consistently been named one of Rubloff's top individual brokers as well as one of Chicago's elite top luxury producers in 2009, 2010, 2011, 2012, and 2013. In both 2012 and 2013, Joanne sold over $50 million in real estate, bringing her total career sales just over $1 billion dollars. She has always been named one of the city's top one percent of real estate brokers by the Chicago Association of Realtors and in 2014, she was once again honored by Luxe Home, Chicago Magazine, and Zillow as the top broker at what is now Berkshire Hathaway Koenig Rubloff. She was also named the number one top broker in not only Illinois but also the 13-state, Midwest region.
Every year since its inception in 2011, Joanne has received the prestigious "Five Star Professional Award" from Chicago Magazine. This award is of particular importance to Joanne because consumers determine the candidates. Five Star Professional conducts research with consumers and industry peers and leaders to identify service professionals who score highest in overall satisfaction. In addition, Joanne has consistently been recognized by Luxe Home, a division of the Merchandise Mart, who honor only the top 25 luxury brokers in Chicago, with an honor received by only 15 city brokers and 10 surrounding area suburban brokers representing the most sales and active listings over $1.5 million. Joanne has been a part of this prestigious group each of the past five years since it was formed in 2009.
As a native Chicagoan and an active member of the community, Joanne prides herself on her knowledge of the Chicago real estate market. In addition to selling, she has worked in all aspects of investment properties, including leasing, marketing, and management. Joanne continues to be exhilarated by her real estate career. She prides herself on offering her clients a personalized approach and constantly strives to raise the bar on customer service.
To learn more, visit Joanne Nemerovski's Haute Residence profile: http://www.hauteresidence.com/member/joanne-nemerovski
About Haute Living Real Estate Network (HLRN):
Haute Living Real Estate Network (HLRN) of Hauteresidence.com offers readers the most prominent directory of experienced realtors, brokers and luxury listings, and HLRN has grown to be the number one source for real estate news, residential developments, celebrity real estate news and more. Seeking an experienced interior designer? Hauteresidence.com is also home to Haute Design Network (HDN), a collective of celebrated interior designers that will help you decorate your new home or stage an active listing.
Access all of this information and more by visiting: http://www.hauteresidence.com