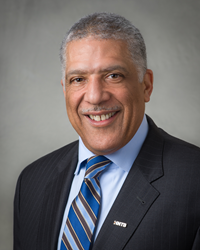 As a nationally recognized transit leader with broad APTA experience, Michael understands the importance of supporting smart transit policies
Arlington, Va. (PRWEB) October 21, 2015
Michael Townes of HNTB Corporation was named vice chair of the American Public Transportation Association's Business Member Government Affairs Legislative Subcommittee, a division of the APTA Legislative Committee. Townes will help lead the subcommittee in serving as a private transit sector advocate for transit policies before Congress and local legislative bodies. He serves as senior vice president and national transit market sector leader for HNTB.
"As a nationally recognized transit leader with broad APTA experience, Michael understands the importance of supporting smart transit policies," said APTA Legislative Committee Chair Barry Barker, who appointed Townes to his new role. "His considerable experience and tremendous expertise will be invaluable to this subcommittee."
Widely recognized as one of the industry's top legislative advocates, Townes has helped shape transit policy throughout his career, often testifying before Congress and other legislative bodies. He has previously served in national positions as APTA chair, vice chair of government affairs on APTA's Executive Committee, as well as chair of APTA's Legislative Committee and co-chair of its Reauthorization Task Force.
"Our APTA Business Members have a unique viewpoint that will be helpful in approaching federal transit recommendations," Townes said. "I am looking forward to adding my voice to this process and working closely with the Business Member Government Affairs Legislative Subcommittee to achieve its objectives."
The Legislative Committee is responsible for developing consensus recommendations about federal legislative activity including transit authorization legislation, annual appropriations, administration initiatives and regulatory matters. The committee formulates policy recommendations both in response to federal initiatives and to propose guidance for federal actions. Its subcommittees and the full committee develop legislative policies that are then recommended to the APTA Executive Committee and board of directors.
As HNTB's national transit market sector leader, Townes is responsible for strategic planning and implementation, industry representation, business development, service delivery and client satisfaction. His team of transit professionals is the backbone of the firm's commitment to addressing the needs of agencies responsible for everything from bus rapid transit and high-speed commuter rail to intercity passenger rail and other forms of public mobility.
Townes earned a master's degree in urban and regional planning and a bachelor's degree in political science from Virginia Commonwealth University. In addition to his APTA positions, he has held chairperson positions at the Mineta Transportation Institute, the Transportation Research Board and the Transportation Cooperative Research Program's Oversight and Project Selection Committee, among other top industry organizations.
About HNTB
HNTB Corporation is an employee-owned infrastructure solutions firm serving public and private owners and contractors. With more than a century of service in the United States, HNTB understands the life cycle of infrastructure and addresses clients' most complex technical, financial and operational challenges. Professionals nationwide deliver a full range of infrastructure-related services, including award-winning planning, design, program management and construction management. For more information, visit http://www.hntb.com.