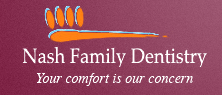 Vicksburg, MS (PRWEB) October 22, 2015
In honor of Dental Hygiene Month this October, Dr. Kenneth Nash with Nash Family Dentistry is now encouraging all of his periodontal patients to receive treatment using the BIOLASE WaterLase iPlus™, a new laser dentistry tool. This type of laser allows the doctor to forgo using traditional dental tools like drills and shots, which will result in decreased pain and discomfort for patients with periodontal disease in Vicksburg, MS.
Periodontal disease is a serious infection of the mouth that begins as gingivitis. This condition is often characterized by inflammation and bleeding gums. When left without treatment, it progresses to periodontitis, which involves deep infections within the gums and jaw bone. Ultimately, if the condition is ignored, the affected patient will develop loose or missing teeth and degradation of the jaw bone.
Fortunately, treatment for periodontal disease in Vicksburg, MS, is now easier than ever before. Due to the development of laser dentistry, such as the BIOLASE WaterLase iPlus™, patients can now undergo necessary treatment, without fear of the pain usually associated with the procedure. Patients who opt to use the laser instead of traditional tools may have their cavities filled, root canals performed, and tooth or gum removal, decreasing pain and inflammation typically associated with the use of traditional methods. With the decrease in damage to surrounding tissue, the utilization of the laser also results in a much shorter healing period. This is made possible with the innovative technology of the laser, using a spray of water to hydrate the area, while also activating the water molecules within the tissue being cut. This results in little to no friction, so pain is greatly minimized and surrounding tissue is left intact.
Patients with periodontal disease in Vicksburg, MS, can utilize Dental Hygiene Month by improving their oral health. Those who would like more information about laser dentistry may contact Dr. Nash's office to schedule an appointment.
About the Doctor
Nash Family Dentistry is a general practice offering personalized dental care for patients in Vicksburg, MS. Dr. Kenneth Nash and his team provide patients with the latest in dental technology in a comfortable and welcoming environment. Dr. Nash offers a variety of services including laser dentistry, dental implants, and cosmetic dentistry services, among others. To learn more about the services offered at Nash Family Dentistry please visit the website at http://www.vicksburgdentist.com or call (601) 634-1812 to schedule an appointment.