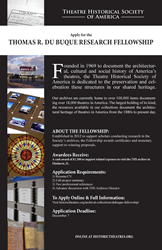 "Tom was always happy to share his love of theatres. In the spirit of his generosity, the Tom DuBuque Research Fellowship encourages use of our collections and support of scholarship at the THSA American Theatre Architecture Archives." Richard Fosbirnk
Elmhusrt, Illinois (PRWEB) October 26, 2015
The Thomas R. DuBuque Research Fellowship was created by the Theatre Historical Society of America Board of Directors in 2012 to honor the memory of past president, Conclave Theatre Tour planner, and dedicated volunteer Thomas "Tom" R. DuBuque. Tom had a lifelong interest in historic theatres and was a member of THS from 1979 until his death in 2011.
The DuBuque Fellowship is intended to support scholars conducting research in the Theatre Historical Society of America Archives and Collections. The Fellowship was created to support research, increase awareness of the THS Archives, and encourage use of archive materials. Grants of up to $1,500 are available to students, faculty, authors, and other users who would like to visit the THS archives in Elmhurst, IL. for research. Awards may be used to fund travel, copying, scanning, photo reproduction, publication rights, and other research expenses. Preferred projects involve the study of theatre architecture, theatre architects, and the operation of theatres in the United States. Applicants should follow the attached rules and procedures or contact the THSA Archives director.
Past recipients of the DuBuque Fellowship include Amy Davis, award-winning photojournalist, The Baltimore Sun, for research related to her book 'Flickering Treasures: Rediscovering Baltimore's Forgotten Movie Theaters,' and Dr. Ross Melnick, Asst. Professor, Dept. of Film and Media Studies, University of California, Santa Barbara for research on his project 'Cine Metro: American Film Exhibitors in Global Markets'.
ABOUT THEATRE HISTORICAL SOCIETY OF AMERICA AND THE AMERICAN THEATRE ARCHITECTURE ARCHIVE: The American Theatre Architecture Archive at Theatre Historical Society of America (THS) is dedicated to preserving the architectural, cultural and social history of America's theatres. It contains information on more than 17,000 theatres, primarily in the United States. Every period and style is represented including 19th century opera houses, nickelodeons, vaudeville houses, small town and neighborhood theatres, open-air theatres, drive-ins, and movie palaces. Founded by Ben Hall in 1969, the Theatre Historical Society of America (THS) celebrates, documents and promotes the architectural, cultural and social relevance of America's historic theatres. Through its preservation of the collections in the American Theatre Architecture Archive, its signature publication Marquee™ and Conclave Theatre Tour, THS increases awareness, appreciation and scholarly study of America's theatres.