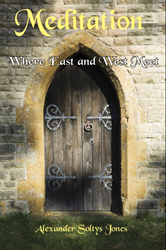 (PRWEB) October 23, 2015
Readers interested in learning more about Meditation or Christian Meditation, can now head to Amazon or Barnes and Noble to find the collected works of Alexander Jones.
In his three best sellers, listed below, Alexander Jones explores the principles of meditation within the Christian religion. Each book offers solace and insight to thoughtful Christians seeking to expand and deepen their spiritual life. All his books have been updated with new material added.
Christian Meditation: Discover and practice methods of meditation used by the Desert Fathers, Pope Gregory, Saint Francis, Saint Teresa of Avila, Saint John of the Cross and others to attain holy rest in God.
Awaken the Christ Within You: This book will open readers eyes to new vistas of spiritual wisdom and understanding, for it shows that Jesus was referring to the Divine power, love and intelligence within our own souls—the Christ within us—when he proclaimed, "Ye are gods," and it also clarifies profound meanings in many of his other statements.
Conversations With Christ: In this book are many truths about God, Christ and the soul. The book gives testimony of Saints who experienced these truths by going within and learn simple, but effective, methods for entering the inner silence to realize unity with Jesus and experience the divine truth, love and joy.
In his next two works Jones explores and teaches the benefits and joys of meditation.
Meditation—Where East and West Meet: Explains why meditation is the golden road that leads to loving fulfilment and satisfaction. Through this guide, Jones encourages you to seek the ultimate goal of meditation: the union of the soul with its Creator.
How Much Did You Love – What Did You Learn: This practical self-help book is packed with affirmations and guided visualizations to support the journey to self-actualization. It is based on two questions: "How much do you love yourself, others and your Creator?" and "What are you learning this lifetime to help you live in love, peace and joy?"
Other great works by Alexander Jones
Seven Mansions of Color: This best-selling book has become a classic in Color Therapy. It offers inspirational and practical methods in the use of color in one's daily life. (Due out in 2015)
Creative Thought Remedies: This book is a powerful aid for those who want to rediscover their inner beauty and remove undesirable traits from their characters. (Due out in early 2016)
Journey of the Heart: As you explore the stages of the heart you will be able to tell where you and your friends are along this sacred journey and what steps you can take to move forward in opening your heart to the fullness of the heart's natural love. Jones' newest book is already receiving rave reviews before it's even been published. This will be sure to become one of Jones' best selling books. (Due out in early 2016)
Spiritualize the Workplace: The call of creation is to work. Learn how to work productively and happily in harmony with your co-workers by unfolding and manifesting soul qualities in the workplace. Through inspirational meditations readers will learn how to spiritualize themselves and their work environment. (Due out in early 2016)
Happyvale: Join Brother Happy Hare as he teaches all the animals in Happyvale to live an honourable life of virtue. Brother Happy Hare's message will remind and inspire all children to live according to God's laws of happiness.(Due out in early 2016)
You Can Make Jesus Happy: This book contains an inspirational thought for each day of the year that can be practised to bring love and happiness. (Due out mid 2016)
Additional book details are available from http://www.alexmeditation.com.
For all other information, including media inquiries and requests for review copies, contact Alexander Jones at alex(at)alexmeditation(dot)com.
About Alexander Jones
Alexander Soltys Jones is a graduate of Tyndale University, with the degree of Bachelor of Religious Education, as well as a Spiritual Director of the University of British Columbia's Pacific Jubilee Program with the Vancouver School of Theology. He has practiced meditation for forty-six years and has taught meditation for thirty years.
Alex is also noted for his recordings used in meditation studios world wide, including the well-known Angels of Color and Sound and Kali's Dream.
About Cygnet Media Group Inc.
Cygnet Publications works with new and established authors to provide cost-effective, comprehensive and customized programs to publish and promote their book in print and ebook format.
Through its business divisions, Cygnet Media Group offers self-publishing packages, video book trailer production, and author website development.
Cygnet Publications, your one stop shop for all things book, video and web.
Learn more at http://www.cygnetmediagroup.com