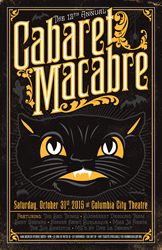 " Cabaret Macabre has become a Halloween tradition for all those that love performances that possess a darker, weirder edge yet also tip a hat to classic, old-time showmanship."
Seattle, WA (PRWEB) October 22, 2015
For one night only, Saturday, October 31st, Seattle's "junkyard cabaret" stalwarts The Bad Things return from a year-long hiatus to present the 12th Annual Cabaret Macabre at Columbia City Theater – 4916 Rainier Ave. S in the heart of Columbia City. Cabaret Macabre is the Pacific Northwest's longest-running showcase of dark cabaret performance and will feature performances by The Bad Things, legendary Pacific Northwest bard Baby Gramps, celebrated burlesque troupe Sinner Saint Burlesque, Eastern bloc party band Bucharest Drinking Team, belly dancer and Cabaret Macabre co-producer Miss J9 Fierce and old-time jug, ragtime, blues and jazz music from The Jug Banditos. The evening will be MC'd by Diva Le Deviant known for her performances in local cabaret productions including Sinner Saint Burlesque's full-length theatrical production Inheritance, The Beebo Brinker Pulp Cabaret at ACT Theatre and more. Advanced tickets are $17 and available online via Brown Paper Tickets at http://cabmac2015.bpt.me. Day-of-show tickets will be available for $20 at Columbia City Theater. Since it is Halloween, costumes are highly encouraged.
"Hard to believe we've been hosting this for twelve years" says Jimmy "The Pickpocket" Berg, founder and producer of Cabaret Macabre and singer/accordionist for The Bad Things. "We've hosted this in warehouses, dive bars and swanky downtown theaters but have called Columbia City Theater home for the last two years. I think this year may be the best, most diverse, line-up yet and we're super excited to be back in Columbia City."
Founded in 2004, Cabaret Macabre began as a warehouse party in Georgetown. From the beginning, Cabaret Macabre proved a hit for fans of the weird and wacky. Past performers have included German clown Hacki Ginda, aerialist Michele Frances, suspension piercing from P.U.R.E. Cirkus, fight-cabaret from Seattle Semi-Pro Wrestling, inventor/one-man-band Thomas Truax, Boston's celebrated dark cabaret pioneers Reverent Glasseye, UK anarcho-pop collective Chumbawamba co-founder Danbert Nobacon and much, much more. Baby Gramps has performed every year since its inception along with founders The Bad Things.
"That first year The Bad Things did everything, set-up, break down, stage management, sound, lights, bar tending, selling merch, manning the door, performing, you name it." Jimmy the Pickpocket says. "I can happily say that is no longer the case and over the years we've brought in folks like Miss J9 Fierce, founder of successful local cabaret nights like Skinny Dip, to handle the dance portion. We still see attendees that were in that Georgetown warehouse 12 years ago and it's become a tradition for all those that love performances that possess a darker, weirder edge yet also tip a hat to classic, old-time showmanship."
New to Cabaret Macabre this year are Bucharest Drinking Team (http://www.bucharestdrinkingteam.com), a self-professed "Eastern Bloc party band" known for their guerrilla performances around town. Their music is one part folk tunes and one part reconstructions of American pop music in a Balkan style. The Jug Banditos (https://www.facebook.com/JugBanditos) are also newbies to Cabaret Macabre, and have made a name for themselves from drunken gigs in north end pubs that find them adding their own spin on traditional jug band, blues, country and jazz tunes.
Doors are at 8pm and the performances start at 8:30pm. This is a 21+ over event with ID. Costumes are highly encouraged. You can find more information on Cabaret Macabre via the Facebook page: https://www.facebook.com/events/1518457198444827/ , The Bad Things website: http://www.thebadthings.com or the Columbia City Theater website: http://www.columbiacitytheater.com.
More about the headliners:
The Bad Things (http://www.thebadthings.com) - In 2002. The Bad Things were formed out of the ashes of A Midnite Choir, a cult favorite in Seattle's underground cabaret scene. After an extremely limited edition debut release in 2003, they recorded their first proper CD with the legendary local producer Kearney Barton (The Sonics, The Ventures, The Kingsmen, etc.). The self-titled release was put out on their Silent City Records imprint in 2004. Two more albums followed: 2006's "Vaudeville Show" and 2008's "It'll All Be Over Soon." The group built up a ridiculously devoted cult following through their raucous live shows at local festivals such as Bumbershoot and the Northwest Folklife Festival, as well as opening slots with like-minded bands like X, Devotchka, The Blasters, Balkan Beat Box, Firewater, Woven Hand and Slim Cessna's Autoclub. Their eclectic style enamored them to the Pacific Northwest's burlesque, circus and cabaret communities and the band has provided the soundtrack to countless productions ranging from ramshackle to extravagant, including "The Breaking," a hit cabaret-show which tells the story of a seedy, subterranean cabaret, set to a Bad Things soundtrack and performed by The Can Can Castaways. In 2010, The Bad Things were lucky enough to collaborate with Danbert Nobacon, co-founder of UK anarcho-pop legends Chumbawamba, an early inspiration for the group. The album, entitled "Woebegone" was released in 2010 on Nobacon's Verbal Burlesque Records. Nobacon has since become an unofficial member of The Bad Things and the band has plans to record with him again in 2016. Their most recent release "After the Inferno," was released in September of 2014 to rave reviews nationwide. The Bad Things were also recently featured in "Razing the Bar: A Documentary About the Funhouse" which received rave reviews on its release in 2014 and currently enjoys an 8.9 rating on IMDB. They have also been featured in MTV's $5 Cover B-Sides documentary series on the Seattle burlesque scene and provided the soundtrack to a 2013 Super Bowl ad for Dunder Mifflin Paper by Quill.
Baby Gramps (http://www.babygramps.com) - Called "The Salvador Dali of Folk Music," Baby Gramps is an energetic humorously entertaining performer with an endless repertoire. He plays a National Steel guitar, and sings his own unique arrangements of rags, jazz, & blues from the 20's & 30's, and many originals with wordplay, humor, and throat singing. According to an article in Seattle Metropolitan Magazine, Baby Gramps is acknowledged as one of the top 50 most influential Northwest musicians in the last 100 years. This past year Baby Gramps was asked to be part of three films. One is a documentary about the history of jug band music, another is an update of the academy award nominated film "Streetwise" that he performed some music for 30 years ago, and the third is "50 Feet of Film" that includes a new original song about the homeless. Baby Gramps has toured Australia, England, and Ireland as part of the "Rogues Gallery CD Concert Tour" with Tim Robbins (actor), Marianne Faithful, Lou Reed, Martin Carthy, Suzanne Vega, Ralph Steadman, and many other internationally known performers. "The Rogues Gallery" CD, produced by Johnny Depp and Hal Willner in connection with "The Pirates of the Caribbean" film, landed Baby Gramps on "Late Night with David Letterman" accompanied by Tony Garnier, Bob Dylan's band leader and bass player.
Sinner Saint Burlesque (http://www.sinnersaintburlesque.com) - Among the country's top titillating talent is Seattle's Sinner Saint Burlesque. For seven years, this internationally touring and teaching company of striptease artists have maintained a weekly show on Thursday nights. Sinner Saint's weekly show became a perfect example of the kind of high class burlesque entertainment cultivated by the city's thriving community. Every Thursday night, without fail, Sinner Saint Burlesque created high-concept, thematic cabaret experiences that combined theater, striptease, comedy, dance, and more in one spectacularly sequined package. When their weekly shows came to a close with the closing of the Noc Noc, Sinner Saint developed their celebrated theatrical performance "Inheritance: Maiden, Mother, Crone" a profound and provocative journey that invited audiences to boldly examine, exalt and reclaim their inheritance and their lives as they know them. Through their ground-breaking theatrical show, Sinner Saint thought-leaders presented a raw, unapologetic and breathtaking look at what it means to be a woman. In 2013, they collaborated with The Bad Things for the first time for their epic 11th Anniversary show to a packed crowd at The Crocodile. The troupe performed throughout the evening, providing burlesque routines between the acts and with The Bad Things. They're excited to be once again collaborating with Seattle's junkyard cabaret kings for the 12th Annual Cabaret Macabre. Whether they're providing entertainment for a private party, a corporate event, or a full-scale theatrical experience, Sinner Saint Burlesque can bring high-glamor entertainment to any venue on any scale.