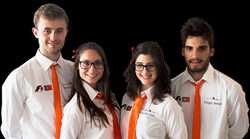 Brecksville, OH (PRWEB) October 24, 2015
The F1 in Schools Challenge allows students in middle and high school to participate in the engineering process. The students use 3D CAD (Computer-Assisted Design) software to design a Formula One® car model. The aerodynamic properties of their design are evaluated in a Virtual Reality Wind Tunnel. The final design is then milled out of Polyurethane using a CNC Router. After final testing, the cars compete for speed, design, and marketing.
The competition provided the students with an unparalleled opportunity to not only experience working as part of an engineering team designing a product, obtaining funding, and creating and testing a prototype, but also to travel locally and internationally to meet other students with a similar interest in engineering but different cultural backgrounds.
The four-person team consisted of Resources Manager and Graphic Designer Diogo Jesus, Team Manager and Design Engineer Ana Andrade, Marketing Manager Rita Pereira, and Manufacturing Engineer André Torrinha. The roles within the team being very well-defined, the team members chose the role that played to their individual strengths while still working collaboratively.
The excitement and the pressure began to mount for the team members as they successfully worked their way through regional competitions to qualify for the World Finals. Once in Singapore, the pressure went to an entirely new level. Not only did the team feel the weight of the deadlines they were required to meet, but also the realization that they were the first team from Portugal to reach the quarter-finals. On an individual level, each team member gained something unique from the experience. Ana Andrade said she now had a completely new vision of not only engineering, but also of interpersonal relationships. Rita Pereira now has a desire to challenge herself to always try and be better, and to believe in herself. Meeting people from many different cultures allowed André Torrinha to experience significant personal growth. Although sad when the experience was over, Diogo Jesus felt he couldn't have been happier than when actively engaged in the competition. One common thread from all of the team members was that they believed the experience to be no less than life-changing.
Nelson Vale, the national coordinator for F1 in Schools for Portugal, praised the team for their accomplishments. "They are a fantastic group of young students, and their talent was proven in Singapore during the World Finals by not only reaching the 2nd place, but also for winning the Best Portfolio Award, and getting to the final of the elimination races".
Bob Scaccia, President of USA Firmware, also commended the team and the competition. "We at USA Firmware believe that it's all about quality engineering. We are passionate about it! As a result we have made a deliberate attempt to help sponsor phenomenal programs such as "Formula 1 In Schools". We are proud to say we donated $4,800 to the Mustang team from Portugal. A great group of kids with incredible future's ahead of them".
About USA Firmware, LLC – USA Firmware, located in Brecksville, Ohio, is a forward-thinking product design and consulting services company specializing in hardware, firmware, software, and the Internet of Things. USA Firmware's website can be viewed at http://www.usafirmware.com .