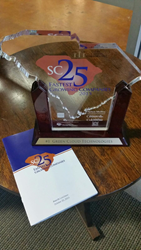 Greenville, SC (PRWEB) October 21, 2015
Green Cloud Technologies, a channel-only provider of infrastructure, disaster recovery and virtual desktop solutions headquartered in Greenville, S.C., was named the Fastest Growing Company in South Carolina.
25 companies were honored at the SC 25 Fastest Growing Companies luncheon in Columbia, S.C. on Tuesday.
"Being the fastest growing company in our state is an incredible honor," said Shay Houser, CEO of Green Cloud. "It's a testament to the hard work and complete dedication of our employees, our channel partners and our investors."
To be eligible for the SC 25 Fastest Growing Companies Award, the company must be headquartered in South Carolina and be in business for at least three years and show revenues of over $3M. Companies are judged on the growth of their income over the last three years, and the growth of their employment. Audits of the company's tax returns and federal employee tax filings to verify income and employee growth over the period.
The award is sponsored by The Capital Corporation, Scott & Company CPAs, Wells Fargo, Nelson Mullins Riley and Scarborough, Greenville Business Magazine and Columbia Business Monthly.
# # #
About Green Cloud Technologies
Headquartered in Greenville, S.C., Green Cloud Technologies is a channel-only Cloud solutions provider dedicated to providing value-added resellers, managed service providers, and technology providers with turnkey infrastructure solutions. With an expanding portfolio of products, Green Cloud offers infrastructure, virtual desktops, disaster recovery and backup solutions. Led by a team of industry veterans that helped found NuVox Communications, Green Cloud operates world-class data center facilities with industry-leading technology platforms, including VMware and Cisco.. More information may be found at http://www.gogreencloud.com.