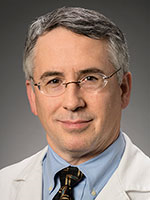 Abington, PA (PRWEB) December 18, 2015
Douglas W. Laske, MD, chief of the Neurosurgery Division at Abington Hospital – Jefferson Health, was recently recognized by Newsweek magazine in its "Top Cancer Doctors 2015" edition.
After earning his medical degree from Columbia University's College of Physicians and Surgeons, Laske completed a residency in Neurosurgery at the Medical College of Virginia. He went on to complete a fellowship in brain tumor surgery and treatment at the National Institute of Neurological Disorders and Stroke in Bethesda, MD. Laske is board certified in Neurosurgery.
Laske has over 23 years of clinical experience, including 18 years in the Philadelphia area. His practice and research interests include surgery for primary and metastatic brain and spinal cord tumors, pituitary tumors, cranial and spinal stereotactic radiosurgery, spinal disorders and brain aneurysms. He is a member of the American Association of Neurological Surgeons, Congress of Neurological Surgeons, Pennsylvania Neurosurgical Society, Philadelphia County Medical Society, Pennsylvania Medical Society and the Society for Neuro-Oncology.
For more information about Abington – Jefferson Health physicians, please contact our Physician Referral Service at 215-481- MEDI.
About Abington – Jefferson Health
Abington – Jefferson Health encompasses Abington Hospital in Abington, Abington – Lansdale Hospital in Hatfield Township, two urgent Care Centers and five convenient outpatient facilities, which include Abington Health Center – Willow Grove, Abington Health Center – Warminster, Abington Health Center – Blue Bell, Abington Health Center – Lower Gwynedd and Abington Health Center – Montgomeryville. More than 1,400 physicians are on staff at both Abington Hospital and Abington – Lansdale Hospital. In addition, some physicians are members of Abington Health Physicians, an employed network of primary care physicians and specialists. Abington – Jefferson Health is part of Jefferson Health and Jefferson, a newly formed organization dedicated to providing the highest quality, compassionate clinical care for patients, educating the health professionals of tomorrow, and discovering new treatments and therapies that will define the future of health care.