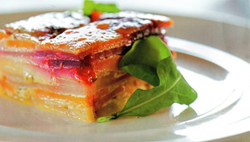 We like to give our guests options, so we created dueling dinners.
Denver, Colo. (PRWEB) October 22, 2015
Forget squabbles about the best way to prepare the Thanksgiving bird. Hodsons at the Streets at SouthGlenn realizes not everyone has the same taste in turkey. So the popular restaurant will be serving a Thanksgiving-two-ways menu to bring peace to the holiday table. Traditionalists can still enjoy their favorite classic dinner, while more adventurous foodies can taste a special hickory-smoked bird paired with an intricate chef-prepared seasonal root vegetable gratin. And both menus feature all-natural free-range turkeys.
"There's not simply one way to do Thanksgiving, and we've heard in previous years that some diners prefer smoked turkey," says Hodsons Executive Chef Justin Adrian. "We like to give our guests options, so we created dueling dinners that we think will please a variety of tastes."
The new special Thanksgiving dinner includes hickory wood fire-smoked turkey with dark and white meat, accompanied by the chef's sweet potato, beet and parsnip gratin, gravy and Asian green beans with dinner rolls. The special dinner is $16 per person for adults.
The new gratin is "an amazing seasonal alternative to traditional sweet potato dishes that offers the unexpected creaminess and tang of goat cheese," says Chef Justin Adrian. For home chefs, a make-it-yourself version of the sweet potato, beet and parsnip gratin recipe can be found on the recipes page of the Hodsons SouthGlenn website. The simple-to-prepare recipe uses a mandoline to create thin slices of the vegetables, then layers them with Gruyere and goat cheeses and heavy cream for a delicious dish that works as a side or a vegetarian entree.
But no worries for traditionalists, assures the chef. The classic Thanksgiving dinner menu will include all the fixings: perfectly basted roast dark and white meat turkey, mashed potatoes, stuffing and gravy, with cranberry sauce, green beans almondine and dinner rolls. The traditional menu is $17 per person for adults; $8 for kids.
Dessert for everyone includes pumpkin cheesecake and house-baked apple pie. Both the special and the classic Thanksgiving dinners will be served all day (11 a.m. – 8 p.m.) with reservations available until 8 p.m. Hodsons full menu is available all day as well.
Reservations are recommended. Hodsons at the Streets at SouthGlenn, 6851 S. Gaylord St., #262, Centennial, 720-457-3852, hodsonsbarandgrillsouthglenn.com.
About Hodsons SouthGlenn:
Along with its sister restaurant, Hodsons Denver, Hodsons SouthGlenn is owned and operated by Colorado-based Roadhouse Hospitality Group, which currently owns and operates 18 restaurants in the Denver metro area and in Colorado mountain towns and resorts. For more information, visit the Roadhouse website at http://roadhousehg.com/.
Media contact: Anne McGregor Parsons, WordenGroup Public Relations, anne(at)wordenpr(dot)com, 303-777-7667