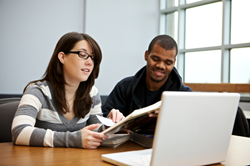 With the ability to choose between online and classroom programs, students can earn credits and still balance other obligations. - Mike Schroder, CSUSM Dean of Extended Learning
San Marcos, CA (PRWEB) October 22, 2015
Enrollment is now open for the January 2016 Winter Intersession term, which features accelerated courses offered by CSU San Marcos that enable students to hasten time to degree completion. Registration is available to both current CSUSM students, and students from other accredited colleges and universities, qualified high school seniors, and members of the community.
CSUSM Winter Intersession courses earn CSUSM credits, and are fully transferrable to other accredited academic institutions. That makes these classes an especially good fit for students from other colleges and universities who are home in North County for the holidays. Winter Intersession can also provide a head start for high school seniors who are considering CSUSM, because up to 24 credits earned as a non-matriculated student can be used toward a degree from CSU San Marcos.
"This year, we're pleased to offer Winter Intersession courses in a wide range of subject areas, from computer science and kinesiology to economics and sociology," says Mike Schroder, Dean of Extended Learning at CSU San Marcos. "With the ability to choose between online and classroom programs, students can earn credits and still balance work, family, and other obligations."
The Winter Intersession term will begin on January 4, 2016 and end on January 16, 2016. Courses are offered on the main CSUSM in San Marcos, the CSUSM Temecula campus, and online. To learn more or to enroll, call Extended Learning at 760-750-4020, or visit http://www.csusm.edu/el.
About CSUSM Extended Learning
As the academic outreach arm of Cal State San Marcos, Extended Learning is a leading provider of professional and continuing education in North San Diego and Southwest Riverside Counties. Offering degree programs, such as a specialized accelerated MBA degree, as well as both academic credit and noncredit professional enrichment courses, Extended Learning helps individuals and organizations achieve their educational and training goals. For more information about Extended Learning at CSUSM please visit http://www.csusm.edu/el/.